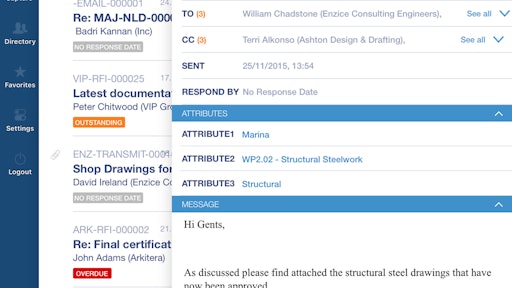 Mobile app: Aconex Mobile
Developer: Aconex
Cost: Free
Available on: Apple and Android devices
Aconex is a web-based platform for managing the information created and exchanged during the life-cycle of construction or engineering projects. Access the latest version of your project data anywhere/anytime, including tasks, documents and correspondence in real time.
Aconex Mobile users can send out site instructions, review change order requests, access the latest version of shop drawings and more.
[VIDEO] Aconex Mobile For iOS and Android Devices
With Aconex Mobile, contractors can review documents and drawings and add mark ups and comments. Contractors can also upload photos, videos and audio notes as documents.
Aconex Mobile also allows users to store files on their mobile device until they are ready to be shared.
App features:
Create and respond to mail
Access unread, outstanding and overdue tasks
View project locations
View and download team member information from directory
Attach photos, videos and audio notes to mail and RFIs
Create mail and access documents offline; automatic sync occurs when connectivity is restored