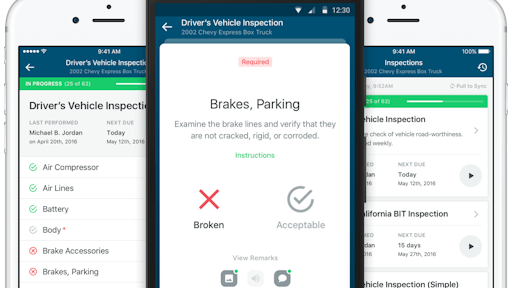 Mobile app: Fleetio Go
Developer: Rarestep
Cost: Free
Available on: Apple and Android devices
The Fleetio Go mobile app is a fleet management mobile app that gives construction businesses the flexibility and collaboration capabilities needed to operate a compliant and efficient fleet. It allows fleet operations teams to instantly update information and access fleet data anytime, anywhere.
The Fleetio Go app can be used to manage any asset including equipment, vehicles, trailers and more.
[VIDEO] Fleetio Go Allows Drivers to Complete Vehicle Inspections in Just Minutes
Fleetio Go provides an easy way to view and update statuses, log issues, conduct inspections and schedule maintenance from a smartphone or tablet. Fleetio Go helps you keep tabs on anything that touches your fleet, streamlining operations and minimizing downtime.
Fleetio Go users can customize user access, facilitate conversations and collaborate on fleet management tasks. Users can only view assets they have been assigned or granted access. Establish what users can add or edit with permissions or even give read-only access.
Users can also manage multiple fleets in the one app.
App features:
Look up an asset by scanning a barcode
Report and document issues instantly with photos and comments
Asset profiles with details, specs and custom fields
Record cost, quantity and location data for each fuel up for instant insight into fuel usage and spend
Fuel logs: log fuel purchases at the pump, review fuel history and see mpg trends
Fuel economy stats automatically calculated
Reminders for upcoming and overdue maintenance
Maintenance history: review service history and work orders; log maintenance as it's performed
Review and update important dates related to an asset such as registration renewals, warranty expirations and other custom types
View asset documents such as insurance records or scanned maintenance invoices related to a particular service or work order
Collaborate in real-time with your entire team so everyone always knows the status of your assets and who is operating them
Fleetio Go account data dynamically syncs with Fleetio's web-based platform