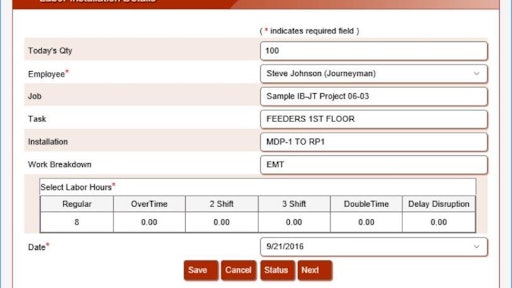 Mobile app: JobTrac Mobile
Developer: ConEst Software Systems
JobTrac project management and field communication software helps contractors track budgeted and completed labor, material, equipment, subcontractors, change orders, alternates, submittals, daily logs and documentation related to each project. It also manages project costs and requests for payments with detailed RFQs, purchase orders, submittals, timecards and AIA documents.
JobTrac Mobile offers the same functions in the Daily Work Reports of JobTrac's desktop version.
With JobTrac Mobile, project managers can send scheduled installations and resources to a field supervisor's mobile device. Field supervisors can then track actual installation quantitates and hours.
To follow-up, project managers can compare installed quantities and hours versus estimated quantities and hours. 
App features:
Monitor productivity trends by day/week and project-to-date for overall crew or individual resource by the hour or by the day
Field supervisors can send daily work reports to the office from a mobile device
Daily work reports include: field requisitions; inspection, testing and deficiency reports; accident reports; daily weather; equipment and subcontractors on the job; communication with customers, GCs and sub-trades
Directly integrates estimates created with IntelliBid for seamless transfer of project information
Gantt charts let you schedule your crew by job or by each task on large projects
Based on AIA billing methods, create an Application for Payment using information stored in JobTrac as well as your project manager's visual assessment of the job's progress