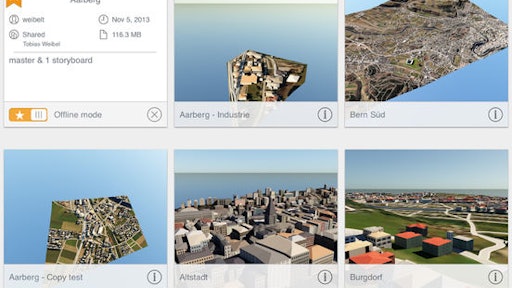 Mobile app: InfraWorks 360
Developer: Autodesk, Inc.
Cost: Free with Autodesk 360 account
Available on: Apple iPad
Autodesk's InfraWorks 360 mobile app allows users to view project models and scenarios from an iPad within the context of the existing environment.
InfraWorks 360 scenarios are presentation packages feature all or part of a model. Scenarios may include snapshots, an entire model or storyboards that provide visual tours of key parts of a model.
With the InfraWorks 360 iPad app, users can view and comment on cloud-published scenarios. You do not have to be an InfraWorks 360 user to use the mobile app, but you do need an Autodesk 360 account.
The InfraWorks 360 iPad app supports Design Feed for posting comments and replies and Augmented Reality to enhance the realism of a scenario.
App features:
Thumbnails for easier visual identification
On-canvas scenario list
Download and view 3D scenarios while online or offline
Use iPad location to view scenarios in augmented reality mode
Search collection sof scenarios
Filter on status or proximity
Create comments using Design Feed
View and reply to comments
Give comments context by placing markers on the scene