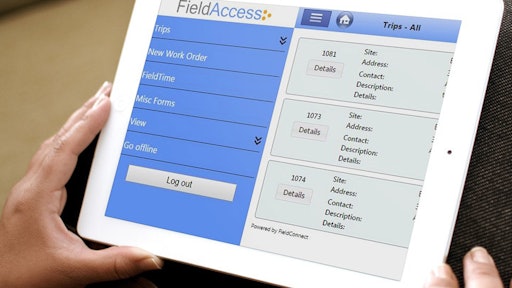 Mobile app: FieldAccess
Developer: FieldConnect
Available on: Web accessible devices
FieldAccess by FieldConnect is a web-based application accessible on mobile devices allows any field staff with a mobile device to stay in sync with the office. With FieldAccess, time cards, payroll data, billing and materials usage are instantly added to the ERP/accounting system eliminating multiple entries and improving accuracy.
FieldAccess helps integrate all service stakeholders including the back office, dispatchers, technicians and customers with the same information at the same time.
App features:
Device agnostic
Built on HTML 5.0
Reduce time between job completion and invoicing by up to 84%
Increase applied field technician time by up to 12%
Gives technicians access to all site and asset history in real time
Improves traceability and compliance of field inspections
Simplifies accurate field technician time entry and approval
Operate offline or online