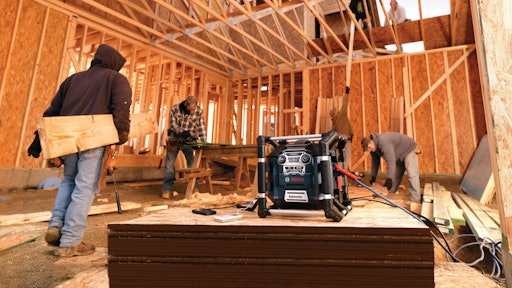 Continuing the 2017 12 Days of Construction Christmas gift list...
One the eleventh day of Construction Christmas — Bosch Power Box PB360C Radio/Charger/Digital Media Stereo
The Bosch Power Box PB360C jobsite radio features 360-degree speakers and Bluetooth technology allowing it to stream Internet radio, stored music and more from a workers smart device on the jobsite. It features a connection range up to 150 feet. It's AM/FM radio features advanced digital tuning and can store up to 20 FM and 10 AM preset stations.

In addition, it can be used as a generator hub that other devices can plug into while on the jobsite. It has four-way power outlets to power other 120-volt AC devices and a USB port to plug in and charge electronic devices.

The digital media bay offers a weather-sealed storage area for electronic devices using the auxiliary input port. The PB360C runs on either a 120-volt AC outlet or Bosch 180volt Li-ion battery.

Looking for other construction-related gifts? Check out the rest of 2017's 12 Days of Construction Christmas gifts:
Day 4 – Kelvin 36-in1 Super Tool
Day 5 – Hard Hat Tree Ornament
Day 6 – Jobsite Weather Monitoring Device
Day 8 – Gear Keeper Add-A-Clip