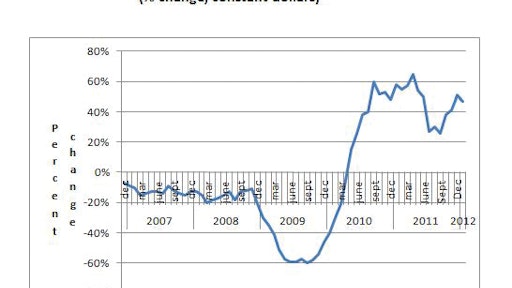 The latest of Caterpillar's monthly dealer sales statistics showed a January increase of 47% in North America, following a 51% gain in December and 41% November gain (see the graph below). Cat aggregates and publishes these numbers for all of its global regions based on reports from the dealers. Data is in terms of constant dollars of unit sales compared with the same period in the previous year.
The past three months' sales gains are remarkable for several reasons. First, I have been mystified since the beginning of 2011 by the strength of Caterpillar's retail business in view of the fact that traditional markets underlying construction equipment demand are not that strong. Every economic recovery since World War II has been led by a growing housing market. The current housing market is just barely growing and remains at less than 50% of the 2006 peak. Second, public-sector spending for things like infrastructure is still very weak. State, county, town and village spending is flat at best. The only demand bright spot is non-residential construction which is forecast to grow 8% to 10% this year.
So where's all this demand coming from?
First, keep in mind that the Caterpillar North American dealer statistics include Canada. Canada has a resource-rich economy and has been much less effected by the global recession. In fact Canada's economy began to recover long before the U.S. Oil sands, housing and most types of commercial construction have been growing at a fairly strong pace for nearly 18 months.
Second, I believe many equipment users in both the U.S. and Canada have been buying up as much new equipment with Tier 3 engines as there are available. That buying has pulled sales forward that might have occurred later in 2012.
Third, there is a number of what I would call non-traditional markets, such as natural gas fracking, that have created demand in rural regions of the U.S. where relatively few people live and demand is normally low. That includes North and South Dakota, western New York and Pennsylvania and part of Colorado and west Texas. Fracking rigs require a great deal of support equipment such as dozers, wheel loaders and material handlers of one type or other.
I read Caterpillar's fourth quarter and full year 2011 report and my eye immediately noted the huge increase in backlogs from December 2010 to December 2011. The company has repeatedly noted component shortages during 2011. Great sales gains have contributed to those backlogs.
Caterpillar management has remained optimistic about its growth prospects for 2012. I am guessing that we will see the backlogs come down and the sales-percentage disparities diminish starting in mid-2012.
Frank Manfredi, founder and president of Manfredi & Associates Inc., has been a consultant to the heavy-equipment industry for more than 35 years, during most of which he has published a monthly newsletter, Machinery Outlook, which is seen as a critical source of information about the construction, mining, agricultural and material handling machinery markets.