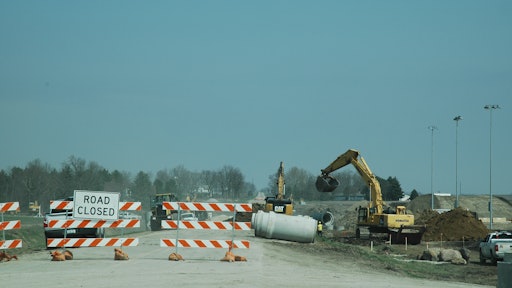 Curt Bennink
Construction has been deemed an essential business, but we were all confident in that fact long before COVID-19 became a life-changing reality. In order for civilized life to continue, utilities need to be maintained, roads need to remain open. Even while other businesses have temporarily shuttered their doors, contractors are helping ensure the lights stay on, goods can continue to flow and people have access to the necessities while they wait out the crisis.
In this time of uncertainty, keeping the doors open and key staff employed becomes the key focal point for many contractors. Even though most of you are still working, there has been a substantial impact on the bottom line and in many cases employee headcount.
Nearly 1,300 contractors responded to an Association of General Contractors' (AGC) Coronavirus Survey conducted the week of March 30 through April 3. According to the report, 27 percent of the firms surveyed reported layoffs.
Restrictions are being placed on certain jobsites. "Twenty six percent of respondents said a government executive, such as a governor or city or county official or a local or state or federal agency has ordered a halt to construction that has affected them," says Ken Simonson, chief economist for AGC of America. That was up 18 percent from the prior week. "Even more dramatic, more than half of the firms, 55 percent, say that an owner, including a private agency that has a project done directly for it, had ordered a halt to projects underway or cancelled newly expected upcoming work." That compares to 33 percent of firms a week ago." While this is not an accounting of all projects, it does show that most contractors are being affected to some degree.
Recovery on the horizon
Despite the challenges, there have been a few areas of growth. "Thirteen percent of respondents said that they were now working on one or another type of additional project, typically a medical facility, a clinic or a testing site," says Simonson. "In the case of highway contractors, a small fraction of them, about two percent, said they were able to accelerate work because lanes were being closed for more hours or they were able to get to the project for more hours."
While this downturn will likely be the reality for at least the next few months, there are signs of light on the horizon. There is a proposed $2 trillion infrastructure package on the table that could become part of the next COVID-19 relief package. This legislation seems to have bipartisan support and if passed, it could help speed recovery to the construction industry. Right now, the bill reportedly targets roads, bridges, tunnels and ports.
This industry has proven its resilience throughout many economic cycles, including the most recent "Great Recession." The market will bounce back as it always does. The goal is to survive the downturn while also putting yourself in the best position for the pending recovery. Cutting skilled labor probably is not the best option since they remain in very tight supply, even now. If you cut skilled labor loose now, there is no guarantee they will be there when you need them for the anticipated recovery. As most of you are painfully aware, this key labor shortage has ranked among the top critical issues for contractors of all sizes for more than a decade.
Develop a Strategic Plan
There are several steps you can take today that may help you weather the current storm. According to Garry Bartecki, managing member of GB Financial Services LLP and a consultant to the Associated Equipment Distributors (AED), you need to develop a strategic plan to survive the crisis.
Start by understanding your current position. Contact project owners you are working for and get a status on the jobs and their ability to pay outstanding invoices. "The major issue is cash flow and cash availability," notes Bartecki. Examine accounts payable to determine which are mandatory and which can be stretched out. Work with your banks to work out terms including possible interest only zero payment for three to four months.
According to Bartecki, "If you determine that you have the cash flow to last six months, reassess it daily and adjust as necessary as new information about customers, jobsites and materials comes to light." If you determine that you do not have the cash flow to survive the next six months, you will need to address that through the strategic planning process.
The six-month time line has been assumed due to the uncertainty of the current situation. Hopefully that time frame is pessimistic.
It is important to note that prior to the crisis most of you reported substantial work backlogs. While some of the cancelled projects may not come back right away, if at all, there are other projects that may lead to a fairly strong recovery.
Protect Your Assets
The goal is to survive the short-term downturn and be positioned to take advantage of the eventual recovery. In the meantime, make sure to protect your most valuable assets. There are several guidelines that have been published to help keep your workers safe on the jobsite during the COVID-19 crisis. Some of these include:
·      No workers with symptoms should be allowed on the jobsite
·       Employees must avoid contact with others and stay 6 feet apart, where possible
·       In-person meeting should be limited, with meeting held by telephone where possible
·      Stagger breaks and lunch if possible to prevent groups from more than 10 from gathering
·      Provide alcohol hand sanitizer where running water is not available
·      Try to avoid contact with co-workers' tools and equipment
·      Divide workers into multiple teams in the advent one crew becomes quarantined
·      Keep crews separated by shifts and avoid employees transferring between shifts
·      If possible, the same worker should use the same truck and piece of equipment every shift
Short cutting safety measures is not worth the risk. Slowing the work on the jobsite is still more profitable than having to shut it down due to COVID-19 exposure. Remember, we are all counting on you to keep critical services running while life comes to a near standstill for a large portion of the population.