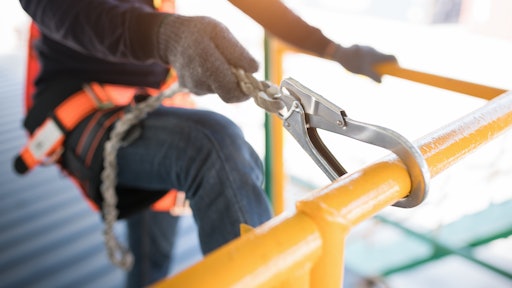 @Aunging - adobe.stock.com
The National Council for Occupational Safety and Health (National COSH) recently revealed that there are major issues in the way that injury and illness from the jobsite are handled. It suggests that improvements to worker safety are highly needed and a top priority.
According to the press release:
Millions of preventable workplace illnesses and injuries show the urgent need for worker-centered safety reforms, leaders of National COSH said this week.
The U.S. Bureau of Labor Statistics (BLS) released a new report estimating that 2.8 million serious workplace injuries and illnesses in 2022, a 7.5% increase from 2021. The data is based on the BLS Survey of Occupational Injuries and Illnesses.
The top 10 industries with the most injuries from 2020-2022 are:
1. Transportation and warehousing
2. Health care and social assistance
3. Arts, entertainment and recreation
4. Agriculture, forestry, fishing and hunting
5. Retail trade
6. Manufacturing
7. Accommodation and food services
8. Wholesale trade
9. Construction
10. Real estate and rental and leasing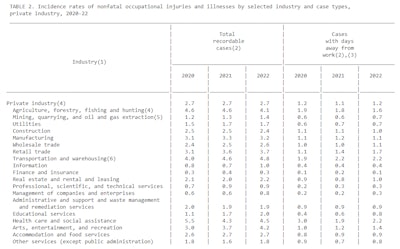 "You shouldn't have to break your back, lose a limb, or get electrocuted when you go in to work your shift," said National COSH Co-Executive Director Jessica E. Martinez. "Workers more than anyone understand their jobs and worker-centered solutions lead to the most effective safety reforms that can prevent injuries and illnesses before they happen."
The BLS survey, which includes serious injuries and illnesses that require medical treatment beyond first aid, is based on self-reports from employers. The U.S. Congress, the Government Accountability Office (GAO), and academic experts have published reports stating that BLS significantly underestimates the real toll of pain and suffering.
The GAO, for example, found that fewer than half of employers fully report injuries and illnesses as required by federal law. Firms also use subtle and not-so-subtle "incentives'' to discourage workers from reporting. Rather than encourage safe work practices, this creates pressure for workers to hide health problems they may be having on the job.
According to National COSH, BLS does not collect sufficient data to fully analyze non-fatal injuries by race or ethnic origin. Due to a long history of workplace discrimination and evidence that workers of various racial backgrounds workers are more likely to suffer fatal workplace injuries than other workers, it's important to investigate further and address racial disparities that impact workplace safety.
"We are allowing workers to get hurt or sick from hazards that can be avoided," said Peter Dooley, a certified industrial hygienist (CIH) who is a program and technical support specialist at National COSH. "And it's outrageous that once they are injured or sick, workers are stuck in a broken worker's compensation system that fails miserably to deliver the medical and financial support workers desperately need."
When workers' comp laws were established in the United States during the first half of the 20th century, the concept was a "grand bargain". Employers would be relieved of potentially huge liability from tort lawsuits and workers would receive certain, swift compensation if they got hurt on the job.
This "grand bargain" has failed, because payment for workplace injuries is anything but swift or guaranteed. Injured workers are frequently stigmatized, their injuries denied or minimized by company-paid doctors, and their earned benefits delayed or never delivered. Instead of getting the help they need, millions of sick and injured workers "are at risk of falling into poverty," according to the U. S. Department of Labor.
Workers' compensation in the U.S. is a state-by-state system, with no minimum national standards. A 2015 investigation by NPR and ProPublica found that "employers are now paying the lowest rates for workers' comp than at any time since the 1970s." Thirty-three out of 50 states, they reported, "have passed laws that reduce benefits, create hurdles to getting medical care or make it more difficult to qualify for workers' comp."
The National Safety Council estimates the true cost to employers of workplace injuries and fatalities at $167 billion a year.
"Employers can measure their costs in dollars and cents," said Martinez. "But how do you measure the cost for a worker who can't bend down, can no longer pick up a child, who can no longer do a day's work without intense pain and suffering?"
To effectively eliminate workplace hazards, safety experts recommend effective worker safety training programs and putting a priority on eliminating hazards with system-wide engineering and operational changes, such as removing a toxic substance from the workplace. System-wide actions should take place before actions focused on individuals, such as providing personal protective equipment (PPE). This still exposes the worker to hazards and can provide a false sense of security.
A National COSH guide to "Building Worker Power Through Health and Safety Committees" recommends several steps to reduce preventable injuries and illnesses.
Gathering input about safety problems directly from workers, using tools such as worker surveys, hazard mapping, and body mapping.
Documenting and tracking health and safety problems as they arise.
Investigating and addressing all health and safety issues in the workplace, including "close calls" to identify all the possible contributing factors that can be changed to correct the hazard.
Training and education programs for workers in a language they understand and support for workers to understand their work environment and prevent hazard exposure.
Closing the loop with workers to show what is being done to try and get better health and safety improvements on the job.
"We have the tools and technology to make our jobs safer," said Dooley. "The challenge is to build worker power so we can implement these tools in all our workplaces."