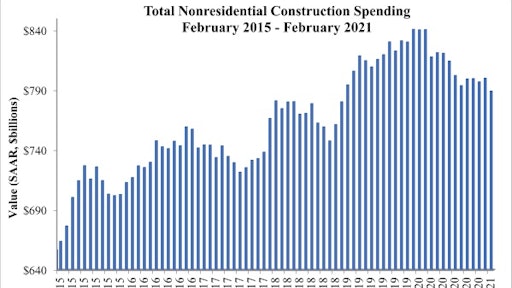 Associated Builders and Contractors Inc. (ABC)
National nonresidential construction spending declined 1.3% in February, according to an Associated Builders and Contractors analysis of data published today by the U.S. Census Bureau. On a seasonally adjusted annualized basis, nonresidential spending totaled $789.5 billion for the month.
On a monthly basis, spending was down in 13 of 16 nonresidential subcategories. Private nonresidential spending was down 1.0%, while public nonresidential construction spending fell 1.8% in February. Nonresidential construction spending has declined by 6.1% from the same time last year.
"We remain in the midst of the COVID-19 pandemic, which has shattered commercial real estate fundamentals," said ABC Chief Economist Anirban Basu. "This too shall pass, but there continues to be downward pressure on nonresidential construction activity, and that was apparent in February, when weakness in spending was apparent in private and public segments alike.
"But past is not prologue in this instance," said Basu. "America is about to experience a massive resurgence in economic growth as vaccinations proceed. Many ABC members report that backlog has already been climbing as projects that had been postponed earlier in the crisis come back to life. While some residual weakness may persist in the next few months, nonresidential construction spending is poised to stabilize during the summer and enter 2022 with substantial momentum, though some private construction segments will continue to lag.
"Consequently, the nature of the challenges facing contractors will shift dramatically during the months ahead," said Basu. "While many contractors have indicated that demand for construction services has been among their leading sources of concern during the pandemic, by the end of this year, the greatest challenge for many will be securing a sufficient workforce with which to compete for and complete projects. This will likely be even more of an issue in 2022 and 2023 as the pace of economic recovery progresses."