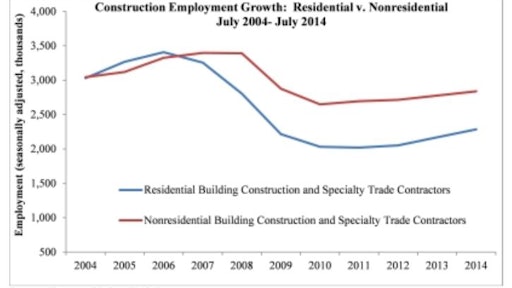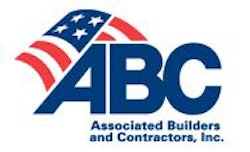 "Economic news continues to improve as the U.S. economy has now added more than 200,000 jobs a month for six consecutive months, the first winning streak of this type since 1997," said Associated Builders and Contractors Chief Economist Anirban Basu. "While nonresidential construction's cycle tends to lag that of the overall economy by roughly a year, gains in momentum for the U.S. economy mean that nonresidential construction is poised for better times ahead. While the 6,600 nonresidential jobs added last month may hardly seem earth-shattering, it's important to note that the U.S. economy only expanded by around 1 percent during the first six months of the year. The renewal of economic momentum remains in its infancy, but this momentum will gradually translate into an acceleration of nonresidential employment creation."
Construction Sector Adds 22,000 Jobs in July 2014
The national construction unemployment rate fell to 7.5 percent on a non-seasonally adjusted basis in July. "July's construction unemployment rate represents the lowest figure since November 2007, the month before the recession began," said Basu. "The rate of unemployment is even lower in certain rapidly expanding states, including North Dakota, Texas and Louisiana, which are wrestling with too few construction workers, not too many."
According to the Bureau of Labor Statistics' household survey, the national unemployment rate inched up a tenth of a point in July to 6.2 percent. That should not be viewed as bad news, however, as the labor market expanded by 329,000 people and labor force participation crept up to 62.9 percent.
"Historically, July is not a good month for labor force growth," said Basu. "But the most recent July is associated with the most solid labor force expansion observed since 1996."
"Before nonresidential construction stakeholders become too excited, it should be noted that the recovery of the U.S. labor market is not unfettered good news," Basu concluded. "Growing evidence of emerging wage pressures is likely to translate into higher interest rates, if not now, then at some point. That would likely temper at least some of the industry momentum presently building."
Individual sectors saw the following changes:
Nonresidential building construction employment fell by 400 jobs for the month but is up by 21,100 jobs, or 3.1 percent, since July 2013
Residential building construction employment rose by 6,100 jobs in July and is up by 54,400 jobs, or 8.9 percent, on an annual basis
Nonresidential specialty trade contractors added 7,000 jobs for the month and employment in that category is up by 40,800 jobs, or 1.9 percent, from the same time one year ago
Residential specialty trade contractors gained 6,900 jobs in July and have added 61,200 jobs, or 3.9 percent, since July 2013
The heavy and civil engineering construction segment gained 2,500 jobs in July and job totals are up by 33,800, or 3.8 percent, on a year-over-year basis
View the June employment report.