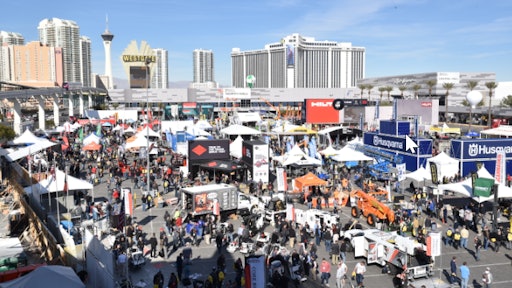 World of Concrete
World of Concrete (WOC) 2020, the commercial construction industry's largest trade show and event, was for many the last in-person industry event of 2020. Since then, most industry events have transitioned to virtual ones, due to COVID-19. 
Organizers of the event have given an update of plans for the 2021 show, which is scheduled to take place January 19-22 in Las Vegas. 
Steven Pomerantz, WOC's senior marketing manager, says the show will go on, for now. 
"We continue to closely monitor the development of COVID-19, especially in Las Vegas in coordination with CDC (Centers for Disease Control and Prevention) guidelines and local authorities," he says. 
Plans are moving forward for an in-person event, Pomerantz says. However, there will be some modifications. 
"We are optimistic about bringing the industry together in a productive and responsible way, and are evaluating all of our options," he says. 
Of course, plans could change as the COVID-19 situation evolves. 
"Please rest assured that we will not be moving forward with a live event if we don't feel all of our partners, vendors, and the city of Las Vegas are not actively and effectively planning for a safe experience for all of our visitors," Pomerantz says. 
According to the WOC website,
"In a post-COVID-19 environment, all Informa events will continue to prioritize the health and safety of colleagues and customers and will be run in accordance with official government and local authority guidance, as well as any venue or location-specific regulations. Informa AllSecure adds a further layer of best practice standards and guidelines. This comprehensive set of enhanced measures has been designed to provide colleagues and customers with confidence that at any Informa event around the world, from an international exhibition to a local conference, we are striving to provide the highest standards of safety, hygiene, cleanliness and quality."
World of Concrete 2019 drew 60,511 registered professionals and featured more than 1,500 companies (including 259 brand new companies) exhibiting across more than 776,800 net square feet of exhibit space.
The World of Concrete education program features industry experts that cover the latest technology, technical applications, strategies for more efficient operations and trends to increase profits. With 170+ seminars, hands-on training, interactive workshops, certification programs and targeted industry training sessions, attendees will be given the education they need to succeed and define their place in the industry.
Attendees can also visit 1,500 exhibiting companies over the 700,000 square feet of indoor and outdoor exhibit space at the Las Vegas Convention Center. Original equipment manufacturers from around the world and exclusive U.S. distributors of equipment, tools, products and services for the commercial construction, concrete and masonry industries showcase their latest offerings to contractors.
For more information, visit the WOC website.