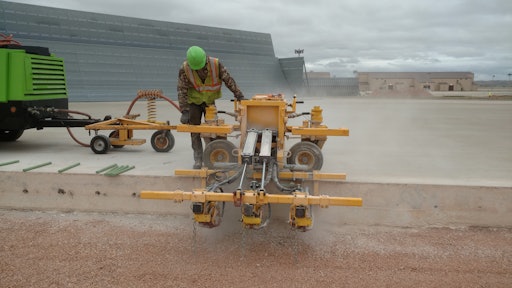 The Westover Air Reserve Base in Springfield, MA, is the largest reserve base in the nation by land mass and houses the nation's entire fleet of C-5 Galaxy transport planes, the largest military aircraft. These planes, which are vital for the country's security, transported 204,812 tons of cargo from Sept. 11, 2001, to Dec. 31, 2012.
The logistics behind keeping an operation of this importance and size moving involves everything from maintenance to fuel. Every aspect plays a major role in mission success, but one area desperately needed improvement so the mission could go on.
Airmen were fueling the massive aircraft with a 25-year-old hydrant that had parts dating to the original 1952 system. To make the system work, pilots needed to guide the plane off the ramp and wait for a 15,000-gal. truck to deliver the fuel. The three trips needed to fill the 54,000-gal. tank on one Galaxy plane took 135 minutes.
Backed by a $24.5 million budget, Westover Air Reserve Base pushed ahead to install a modern Type III Pressurized Hydrant Fueling System. The system would improve mission capability while enhancing environmental compliance with two large above-ground tanks replacing the 12 smaller underground tanks. While the new setup would lower the amount of fuel that can be stored on base from 584,000 to 420,000 gal., it would cut the fueling process to just 30 minutes.
"This new system is going to greatly increase our ability to deliver large amounts of fuel to aircraft as quickly and safely as possible, which is absolutely essential to the mission," says Col. Steven Vautrain, 439th Airlift Wing commander.
The Department of Defense opened the bidding in 2012 using its "Best Value" evaluation process. This process focuses on price, experience, management capabilities and past performance. After reviewing each bid, it contracted Structural Associates Inc., Syracuse, NY, to complete the project.
With 40 years of experience, Structural Associates boasts a strong resumè with more than 15 successful aircraft-fueling systems built throughout the U.S. Its team is skilled in concrete work and utility development, as well as earthwork, masonry and carpentry.
"Our main area of focus is the federal market," says Jim Warner, Structural Associates' concrete superintendent. "We are experienced in military fuel systems and the unique circumstances that come with them. We understand the importance of the job and know how to safely work on active military airfields.
"Every day at Westover, we were working with the U. S. Army Corp of Engineers, and they expected nothing but perfection," Warner says. "I have those same expectations of my team on any job."
Drilling with Both Speed and Safety
At Westover, Structural Associates began by cutting out and removing 25' x 25' slabs of 14-in.-deep concrete at the airfield. This opened the area for welders to lay the new fuel distribution line. Warner's team then drilled 27,000 holes with an E-Z Drill 210-3 SRA three-gang slab rider drill around the perimeter of the freshly cut space. Part of the team followed the drill operator, placing dowels in each hole in preparation for refilling the 126,000-sq.-ft. hole with concrete.
Structural Associates purchased its first E-Z Drill pneumatic concrete dowel drilling machine — a single-gang slab rider drill — in the 1980s, when it began to shift from handheld drills to automated units. It's a transition that continues to bring a high return on investment, not only in terms of productivity but also injury prevention. The new drill allowed workers to be hands-free for most of the drilling process, avoiding vibration-induced injuries.
Along with reducing injuries, the speed of the slab rider drill vs.handheld drills made a huge impact on efficiency. A single worker could drill two to three times as many holes at one time, which allowed Warner to move part of his crew to different areas of the jobsite.
Structural Associates now own two two-gang and one three-gang E-Z Drill slab rider drill machines. Warner says the speed and precision of the drills helps ensure the company's success on military jobs, including the project at Westover.
Serviceability and Support
The pace and size of that project meant Structural Associates needed to be prepared to quickly replace wear parts on the concrete dowel drill to keep the job on schedule.
"Every project places a certain amount of stress on our equipment," Warner acknowledges. "Luckily for us, E-Z Drill makes replacing parts easy."
Over the years, Structural Associates has learned which parts tend to wear out faster than others in the conditions in which it works, and plans accordingly. "We carry parts with us no matter the jobsite," Warner comments. "Because of how easy it is to replace parts, we never need to go out of our way to repair our machines."
Even when an occasional breakdown occurs, Warner knows the drills will be back up and running quickly. "When we need more parts than what we have on hand for a repair, our dealership, McQuade & Bannigan, is always there to help us out," Warner said.
With three New York locations, McQuade & Bannigan supplies the construction, municipal and industrial markets with handheld tools and construction products. Its support is crucial for companies like Structural Associates, whose work is not defined by geographical location. When parts break, they may not be in areas where they can easily purchase replacements.
"We have worked all over the nation," Warner says. "South Dakota, North Dakota, Kansas -- you name it, and we have more than likely been there. That can cause problems when we need parts. Thankfully, the team at McQuade & Bannigan works hard to get us whatever parts we need. And, we typically get materials the next day, which gets us back to work in no time at all."
Fun Yet Efficient
The reliability and precision of the E-Z Drill machines makes them Warner's go-to choice for his crew. He knows they have the best tools to meet the exact parameters set by the U.S. Army Corps of Engineers. Plus, they can even be fun to operate on the job. Warner says his crew has such an easy time operating the drills that they started to have some friendly competitions as they worked.
"One of my guys believes that the two-gang drill is faster than the three-gang drill," Warner notes. "So every once in a while we have a competition on who can drill the most holes. It is nice to know that our guys can have some fun at work, and I know that every hole will be consistent and ready for placing dowels."
When asked who wins the competition, Warner chuckles saying it depends on the obstacles, type of concrete and who is more comfortable with the different style of drills.
The Westover Air Reserve Base's new fuel system took two years from start to finish. Structural Associates finished its portion of the job within a year, keeping the project on time and on budget.