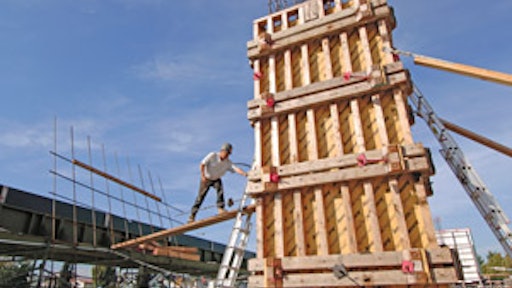 A good portion of concrete contractors offer cast-in-place concrete work in their lineup of services, whether they're building foundations, single-family homes or commercial buildings. Contractors are typically utilizing either wood panel systems or aluminum forms for residential and light commercial jobs. There are many options to choose from within each forming system, and recent advancements and technologies offer contractors material and time savings.
Plywood forming panels
Contractors use plywood panel formwork on cast-in-place commercial and residential jobs. In the residential sector you'll see a good portion of foundation contractors constructing job-built formwork, while others utilize prefabricated systems with plywood faces and wood or aluminum stringers, or steel or aluminum modular systems skinned with plywood. Plywood is also utilized on all sizes of commercial projects, like office buildings, high-rise structures and parking garages.
Many contractors utilize raw plywood panels, or BB plywood, which is available in a variety of thicknesses and comes oiled and edge-sealed. Industry statistics report that formwork - including materials, labor and finishing - accounts for roughly half of the cost of installed concrete. A growing number of contractors seeking to lower the costs associated with materials, labor and finishing on their projects are choosing to utilize plywood panels that include an overlay of resin-impregnated Kraft paper instead of the raw BB plywood panels. The overlays lend additional features to the panels that help a contractor save time and money.
The overriding benefit of overlaid plywood is an increased number of pours from each panel. Number of pours varies greatly between the different types of overlays, from manufacturer to manufacturer, and is dependent on how carefully a contractor cares for his panels. There are several types of overlays available, the most common being medium density overlay (MDO), high density overlay (HDO) and phenolic surface film (PSF). Generally speaking, a piece of raw BB plywood will give you up to five pours. With the addition of an MDO a contractor could expect 10 to 15 pours per panel; with an HDO, depending on the manufacturer and application, you will typically get between 25 and 50 pours, and in some cases up to 200. A PSF panel would give you a number of reuses similar to that of an HDO. "Costs do increase with the addition of the overlays," says Lester Pernu, business manager with Dynea Overlays, "but you're still going to save a lot of money on the working side when you can reuse them in your concrete pours."
In addition to the benefits of multiple pours, overlaid panels can offer savings on labor and materials. "An overlaid panel would take far less form release material applied to it, whereas a BB raw wood you would have to oil it fairly heavily and it would absorb much more of the form release, so there would be a savings in the amount of form release agent that you would need to apply to the panels and also a savings in labor to apply the form release to the panels," says Mark Sutherland, sales manager with Ainsworth, a manufacturer of specialty overlaid concrete-forming plywood.
Another added benefit of an overlay system is it imparts a neater finish on the surface of the finished concrete than a BB panel does. "The concrete surface that's left after you strip the panels away from the building or project you're working on with an overlaid panel is going to be much smoother, more uniform in color, and have less grain transfer coming through to the concrete surface," Sutherland says. "There would be less back-end work doing remedial repairs on both the plywood and the concrete surface, which again translates into labor savings."
Because of the many options available in the overlaid plywood market, Pernu emphasizes the importance of communication between contractors and the overlay plywood panel suppliers. "When a contractor is talking to an overlay plywood panel supplier and they want to buy a lift of a certain kind of panel, it's important that they discuss the correct questions with the supplier of that overlay so the supplier can give him the panel he needs for that job. Some of these questions to discuss can be as simple as 'What kind of finish would you like on this panel?' or 'How many pours do you expect?'" he says. "Plywood is not plywood - it's quite variable depending on the panel construction, wood species, type of overlay and your expectations in using it - everyone should be satisfied, and asking questions about the job is really a good way to achieve that."
With recent increased use of blast furnace slag and fly ash mixes, manufacturers have developed overlays that are more resistant to these high-alkali concretes. If you're working on a project that specifies a high-alkali mix, talk with your overlay plywood panel supplier to ensure you get a panel that will stand up to the mix.
In recent months a new technology in overlaid plywood hit the industry with the introduction of the polymer composite MCO (Maxam Composite Overlay) from Maxam Industries. Maxam president Steven Maimon says MCO doesn't require the use of release agents, is resistant to high-alkali mixes, and is LEED compliant and recyclable. "MCO will provide the same finish on the 100th or 200th pour as it does on the first," he adds.
Maimon says that in addition to the cost savings associated with eliminating the need for release agents, there are added safety benefits.
"If you're pouring a horizontal table, it's going to be safer for the crew to walk on that floor and not have to worry about slipping," he says. "You also don't have oil or release agents on your form so you don't have to worry about contaminating any rebar structures that you may have on there."
Contractors can order MCO factory-applied to a plywood substrate or on Maxam's Futura panel, a structural lightweight composite alternative that does not use any wood. "Futura is ½ in. thick and has about half the weight but the same strength as a ¾-in. structural plywood panel," Maimon says. "MCO also is available as a peel-and-apply facing for contractors to refurbish their existing plywood, aluminum and steel forms."
In addition, Maxam offers a polymer rubber composite overlay product called MCO/FLEX, which is intended for limited pours and doesn't require release agents. It's available in rolls up to 10 ft. by 200 ft. and is designed for forming complex shapes and seamless finishes.
Aluminum forming systems
Prefabricated aluminum forming systems come in a range of widths and heights, typically up to 10 ft. in height and up to 3 ft. in width for forms used in residential applications. Gang forms, large stretches of panels hooked together or just one large panel, are available for more efficiently pouring long stretches of wall. Specialty forms can be used to achieve certain shapes, imprint a design into the concrete or accommodate architectural elements.
Aluminum forms customized to a certain niche in the concrete market are also available. Charles Engelken, president of Wall Ties & Forms, says the ability to easily shape aluminum has allowed his company to offer customers forming systems unique to their industries. "Essentially we're a mass customizer of forms," Engelken says. "There's standard equipment, but with 95 percent of our customers there's a certain type of customization to that industry. The forms that go to the swimming pool industry are different than the ones that go to the foundation industry; forms that go to the housing industry for above-grade homes are different than the foundation forms; and agricultural forms are different. There might not be gigantic differences, but they're always differences that give contractors a better finished product and can also save them labor in the setting of forms."
Aluminum forms offer an impressive reuse life. "Aluminum is more expensive than other systems up front, but can last for up to 3,000 or more pours. A normal life would be anywhere from 1,500 to 3,000 reuses," says Phil Fearnow, vice president of sales with Durand Forms.
Fearnow adds that contractors who don't take care of their forms won't get the maximum use potential out of them. Owners need to avoid mistreating their forms, and should apply release agents on the forms before each pour to avoid concrete buildup. Fearnow says contractors should also remove any excess concrete that's on the side rails or on the forms themselves after they're stripped from a wall.
When considering aluminum systems, contractors need to closely examine their businesses and decide whether they're doing enough work to make up for the up front costs. "We think they should be pouring 50 to 75 foundations a year to really look at the cost of aluminum," Fearnow says.
"You really have to look at the type of market you're in because there are markets where a guy could use the forms 10 times and the aluminum would make sense," Engelken adds.
Larger aluminum forms, as with other forming systems, need to be set with a crane, but there are some sizes that can be set either with a boom truck or by hand. The use of a boom truck rests with the contractor and whether or not he feels he's doing enough work to make up for the cost of the truck. "There are contractors who like the boom trucks because they are a lot faster in moving forms in and out of a foundation and you can set them down in place; other people use roll-offs, trailers or modified trucks where they put on their own racking design. The boom truck is really the less labor-intensive system to use," Fearnow says.
Manufacturers in the industry have recently introduced aluminum form systems that are lighter weight, adjustable in the field and have fewer parts for more efficient setup and stripping. Aluminum forming panels that impart a brick or stone pattern onto the finished wall have been available for years, but recently manufacturers have started introducing more patterns to choose from. These systems can be used in conjunction with the smooth-face panels to achieve different surfaces on either side of the wall. Engelken says he expects much more in the way of advancements in the aluminum forming system in the coming years. "One thing I can say about the aluminum forming market is even though it's 50 years old, I believe it's still in its infancy."