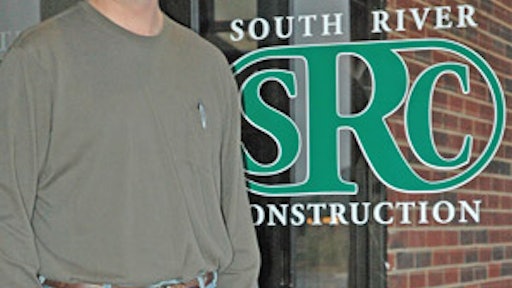 Matt McCoy, president of South River Construction in Austin, Texas, has built his company around performing ICF construction. McCoy and his crew of 25 employees commonly work with more than a dozen of the industry's leading ICF brands, learning about the forms' advantages and disadvantages as they strive to create a successful building system with each project.
In 2000, McCoy was on track to join his father in the lumberyard business, but he found himself working on a jobsite with ICFs. McCoy liked the experience and went into business for himself doing mostly general contracting work on ICF projects. McCoy realized he was making more money on jobs where he worked as the subcontractor installing ICFs and about a year and a half ago reorganized his company to focus on subcontracting work as ICF installers.
Annually, South River Construction takes on a larger number of residential projects, but performs more square footage in block installation on commercial jobs. Business has doubled for McCoy each year since he started his company, and he says that while the residential market for ICFs is growing quite a bit, the commercial market is exploding.
"People are starting to realize that there is more to a building than construction cost,"
McCoy explains. "It's like buying a car - people don't just look at the price but also consider fuel economy and how often it's going to need repair. People want buildings that will have low operational costs and high efficiency. To them, building with ICFs is becoming more and more attractive."
It's all about the concrete
"What sets us apart from our competitors is that they don't know much about concrete," McCoy says. "We put our employees through ACI and PCA training. We are concrete experts who just happen to use concrete forms."
McCoy explains that within the concrete industry, ICFs don't currently have a great reputation because a lot of installers got into the industry without knowing about basic concrete principles and some of the block manufacturers' training used to be contrary to sound concrete principles. But all that is changing. "The good news is now manufacturers' training is getting better, and the number of qualified installers is on the rise - and they're producing some outstanding walls," he says.
McCoy emphasizes the importance of education and quality control measures in ICF construction because the finished product can be difficult to inspect. "If you don't follow good concrete placing practices, then the odds of having a mistake grow exponentially and the odds of locating a mistake are pretty slim," he says.
First off, McCoy suggests using a block from a manufacturer that has completed all testing and code approval for that block. Secondly, you need to treat the concrete as you would on any other project; that means in regard to safety, rebar placement and consolidation. "One of the frustrations that I hear sometimes is block companies say you don't have to consolidate concrete in their forms. But you have to consolidate the concrete because the concrete doesn't know what kind of container it's in," McCoy stresses. "I don't think the needs of a specific block outweigh the needs of what the concrete needs."
McCoy is also a strong believer in education as a path to better building. As employees move up the ladder at South River Construction, they rack up a growing list of completed training courses. In order to be a foreman for McCoy, an employee must become certified with two ICF block manufacturers, complete ACI courses on rebar placement and concrete consolidation and an OSHA course on scaffolding training, and complete McCoy's personal carpentry test. Another battery of educational and safety courses is required to become a superintendent.
McCoy says all this emphasis on concrete education sets his company apart from many of his competitors. "We wanted to be a part of improving the quality of concrete in construction and improve the focus on the concrete and less on the block. We see a lot of installers who might know a lot about the foam block, but they don't know much about the concrete itself," he says.
Around the block
McCoy's experience building with dozens of different blocks on the market gives him a unique perspective in the industry. The best advice McCoy can give is to get to know the block you're working with. "You would not want to build a large structure with a block you haven't used before," he says. "With a new block, you want to start with something small, test it out and make sure you learn the different nuances of it."
You also want to make sure the block you pick is designed to work for the structure you're building, whether it's a foundation, a house or a commercial project. "The features we've found that are pretty important for a commercial project include looking for one of the sturdier blocks out there because the pour heights are going to be taller," he suggests. "Also, some blocks compress when you pour concrete and some don't, and you're going to want to be aware of that."
In the end, though, it's not all about the block. "I think the most important feature of an ICF block really isn't the block itself but the company standing behind it," McCoy says.
Recent projects
South River Construction has been busy with a variety of ICF projects in recent months. McCoy's team recently completed a safe room for a residential client - a common request in Texas where basements are rare but people still need protection from storms and tornadoes. ICF construction is a nice choice for these types of small projects because McCoy can send two employees with a minimal number of tools to the jobsite and it can be finished in two days.
Another recent project was a 3,000-sq.-ft. home in Wimberely, Texas. With the home site located on top of a hill, the owners wanted a building system that would offer storm protection and contribute to the construction of a green and sustainable home. "The ICF construction integrates with a lot of green features inside the home to work toward the final result of not just a great example of green construction, but an outstanding piece of construction - no matter what school of thought you're from," McCoy says.
South River Construction is currently working on a 77-ft., six-story Hilton Garden Inn in Lewisville, Texas. This is McCoy's tallest ICF project to date. McCoy says the owner's decision to build with ICF was a simple one.
"It wasn't the energy efficiency or any other feature of ICFs that attracted the owner to this type of construction - it was about the price," McCoy says. "The project was initially written up for cinder block construction, but the ICFs were more than 5 percent less expensive."
McCoy says an added bonus for the owner is sound attenuation. With the hotel located just off Interstate 35, people staying in the hotel will be able to see the Interstate, but they won't be able to hear it.
With consumers pushing architects and builders to provide more energy efficient and storm-resistant homes, the ICF industry will continue to grow. McCoy looks forward to advancing with the industry and seeing where it will go. "What we've enjoyed is pushing the limits in terms of what you can do with ICF and what you can do with the concrete within it. We look at how we can stay within good concrete practice and stay within the needs of our owners and clients," McCoy explains. "The creativity part of that has been a lot of fun."