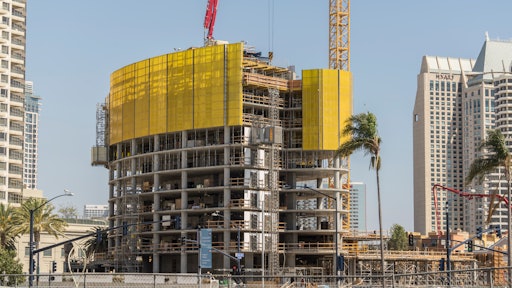 The challenge:
Building San Diego's Pacific Gate condo tower featuring a unique structure shape and limited crane time and work area.

The players:
Kohn Pedersen Fox Associates
Bosa Development
Morley Construction Co.

The process:

The luxury high-rise condominium, Pacific Gate, marks a turning point in San Diego's downtown transformation. It is expected to be the most prestigious address in Downtown San Diego and California's first "super prime" tower. Situated in the waterfront district and one block to the Broadway pier, the structure reflects the fluid forms of the shoreline and redefines the city's skyline. Pacific Gate will include 41 stories and 215 residential condos.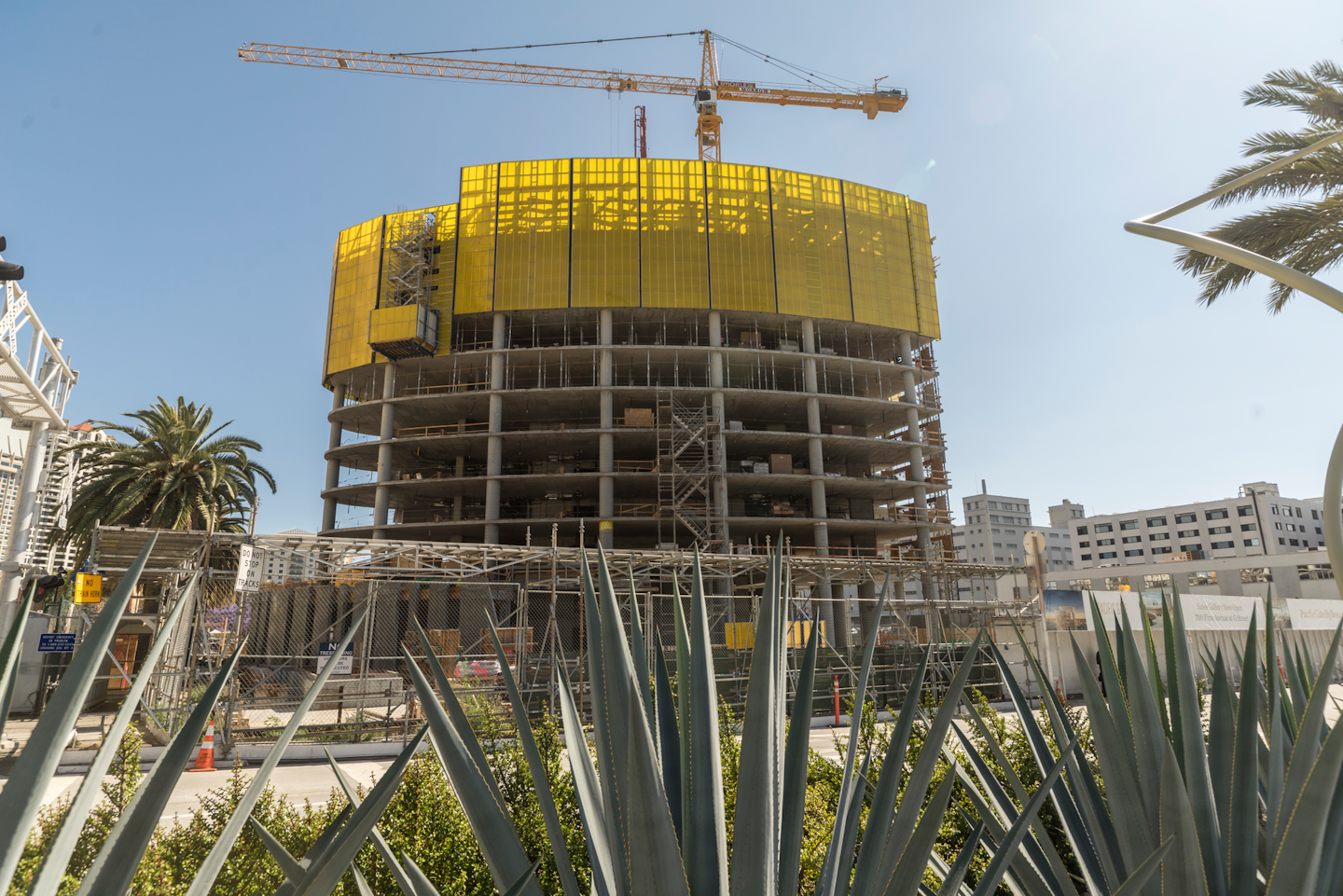 With one crane, Morley Construction was able to complete one floor a week at the San Diego condo project.

The oval-shaped tower has a long axis and is situated on a diagonal angle to maximize water-facing views. The floor plans were shaped to create two nested arcs with sharp beaks at either end — these are designed for balcony spaces at both ends of the tower.
The shape of the structure created many challenges for this project. First, the contractor, Morley Construction Company, needed to limit the amount of crane time. Then, it contained a very complex core design. Doka's Truss Table could not be used. Also, as it is a downtown location, there was limited work area on the site.
Doka provided continuous support and service to ensure the best solutions were used. For this integrated core design, the Super Climber SCP was chosen. The oval-shaped tower had a very complicated core design, due to the desire to maximize the amount of water-facing views. Using the Super Climber SCP permitted construction on the unprecedented design. Protection screens allowed for safety and protection of glass being installed as building climbs.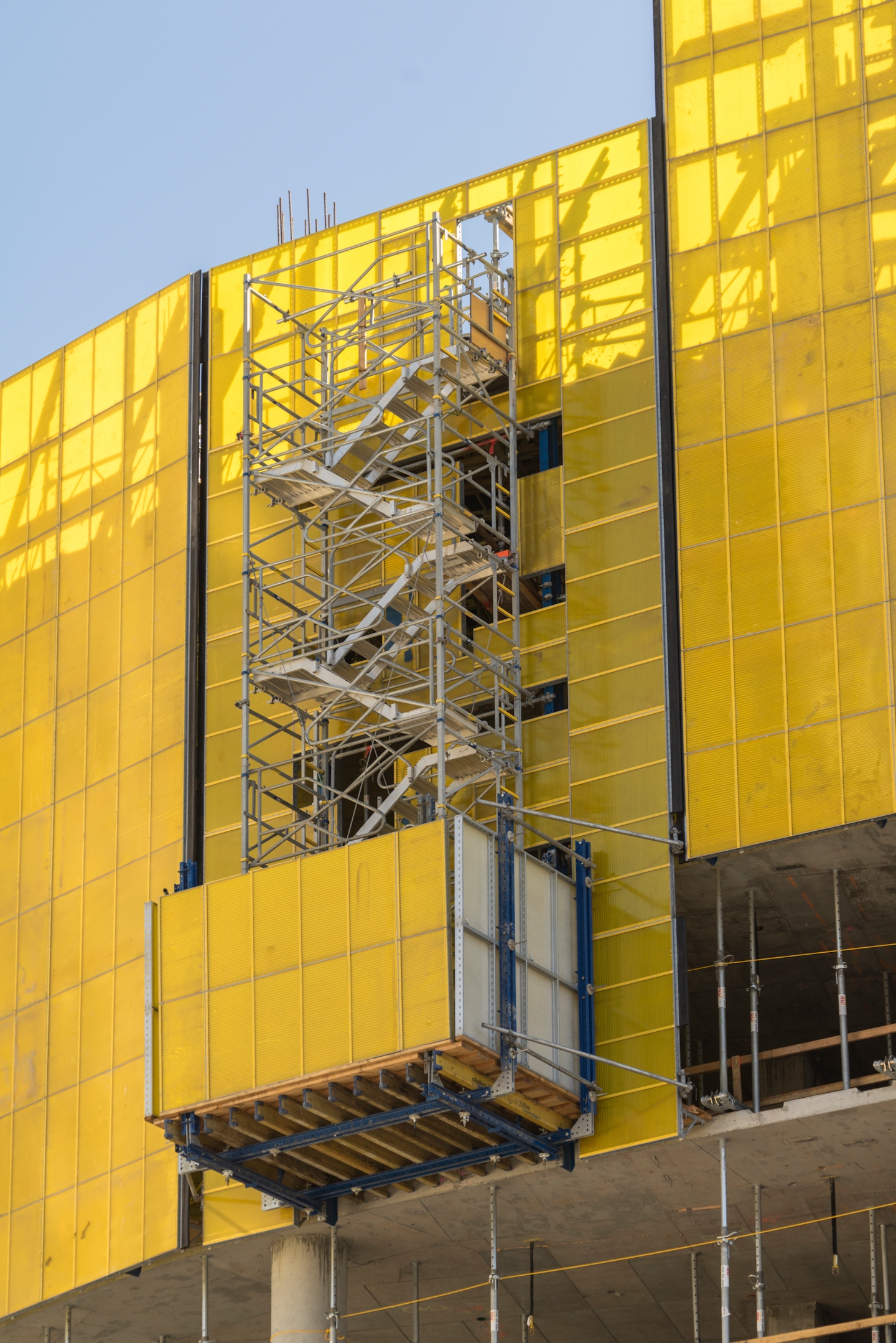 Doka's Super Climber self-climbing core system allows inside and outside forms to be hung from the gantry allowing the contractor to roll forms away from core walls while erecting and stripping.

"The unique design of our project is like no other here in San Diego, a 41-story tower curved on all sides. We completed one floor a week with one crane, but used two cranes for the first eight months. The 18-month structural concrete schedule was definitely a challenge," said Jaime Equiza, field superintendent, Morley Construction Co. "The Doka Super Climber was first looked at as big, complex and just a beast. When you look at our core with 14 corners, 9 hydraulic rams and walls within the core walls, it's no ordinary core. You need a beast to defeat a beast. The Super Climber was a time-saver by not using any crane time to cycle from floor to floor and was an efficient form system."
The Pacific Gate project is expected to be completed in late 2017.