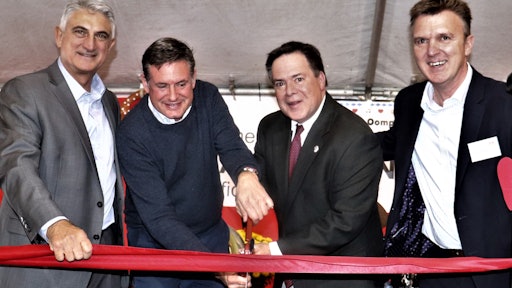 PERI Formwork Systems
PERI, one of the largest formwork and scaffolding rental suppliers to the construction industry worldwide, is pleased to announce the opening of their New Jersey yard and office. The Grand Opening of the new facility was held on October 17, 2018.
Rich DelGiacco, VP of PERI USA, says, "Being in close proximity to the greater New York / New Jersey Metro area and only 1 hour from the heart of NYC results in shorter lead times and reduced freight costs and will allow us to serve our customers better than ever before for all their formwork and scaffolding requirements."
PERI, a global company with roots in Germany, celebrated the Grand Opening in German tradition, by throwing an Oktoberfest-style party, where employees and customers enjoyed authentic German food and beer as well as having the opportunity to explore the latest and greatest formwork and scaffolding products in the new exhibition hall.
Bridgewater's Mayor Daniel J. Hayes, Jr. welcomed PERI USA to Bridgewater and expressed his excitement about the new jobs and increase in business PERI is bringing to the area.