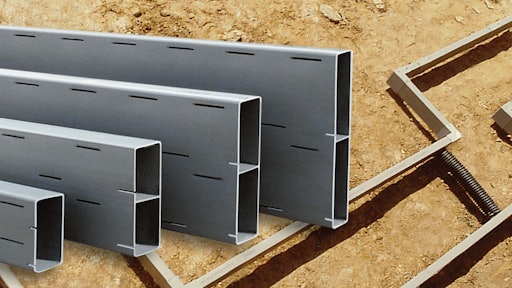 Form-A-Drain Plus is a 3-in-1 foundation solution that forms footings, provides an integrated drainage system, and can be easily adapted to vent radon where needed.
Designed for residential basement applications, Form-A-Drain Plus consists of lineal sections installed as the foundation footing forms.
Unlike standard wood forms, Form-A-Drain Plus lineals stay in place permanently after completion of the concrete pour.
Because they form a complete sub-slab perimeter loop around the foundation, Form-A-Drain Plus functions as a foundation drainage and a radon collection system as well.
Since it stays in place, Form-A-Drain Plus also shaves valuable time from the construction schedule; there's no need for a crew to return the next day to remove, strip, clean and transport forms to the next jobsite.
Request More Information
Fill out the form below to request more information about
Form-A-Drain Plus