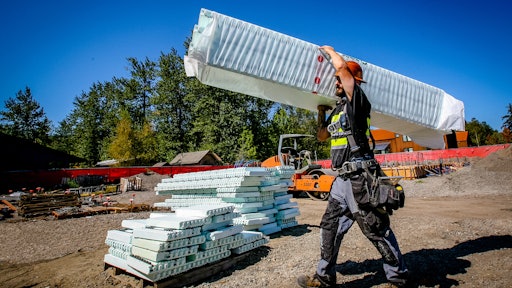 Nudura Insulated Concrete Forms (ICFs) meet the demands of today's buildings, offering an energy efficient and eco-friendly construction option.
ICFs consist of two panels of expanded polystyrene foam and are connected with Nudura's patented web system made of 100% recycled material. The forms are stacked, then steel reinforced and filled with concrete. Thanks to their steel reinforced solid concrete core, these structures can withstand extreme weather conditions, enduring winds of up to 402 kph (250 mph). In addition, the non-toxic fire retardant expanded polystyrene foam provides a fire protection rating of up to four hours.
Building a Swimming Pool with ICFs
Inside the home, Nudura ICFs eliminate air gaps, minimizing the potential formation of mold growth and draft paths. This results in an airtight structure that is more efficiently heated, cooled and ventilated. According to Nudura, ICFs provide energy savings of up to 58% compared to traditional building methods and reduce the carbon footprint of the building.
The forms are available in a variety of types and sizes to accommodate all building and design requirements.
Request More Information
Fill out the form below to request more information about
Nudura Insulated Concrete Forms Save 58% More Energy than Traditional Methods