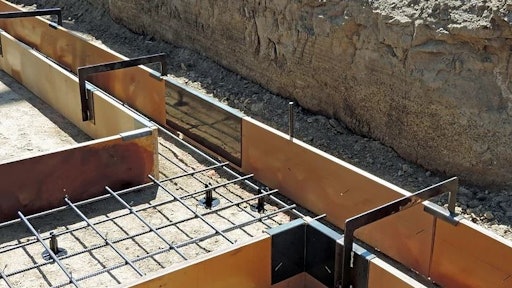 Advance Concrete Form

Our system allows work in various soil conditions including sandy, clay, shale or rock. No extra drilling or wiring required, simply place the adjustable bracket. The bracket also minimizes damage to your forms since you nail into the face and not the end. There is less cutting of your form product because you can run them wild. Our unique splice bracket allows you to avoid overlap satisfying code variations. Finally you no longer have to support the footer forms with a rusty, twisted mess of wire that gets in the way when finishing. Our bracket allows for unobstructed screeding and troweling.    
No longer driving or pulling stakes
Reducing excavation concerns and concrete waste
Owning a long lasting form product
Various sizes footing widths not an issue
Handling stakes increases labor hours, and physically wears workers out.
Many times you run into a hole with less than ideal excavation. Our system reduces that frustration because the board sits directly on the ground following the contours of the dig. This minimizes seepage and the cleanup that follows which saves you on both material and labor costs.
We offer a 1-1/8" form product that does not twist or bow which gives it superior longevity. This keeps you from running to the big box store over and over again for inferior lumber.
The adjustable bracket that we have engineered allows for various footing widths.      
Request More Information
Fill out the form below to request more information about
Advance Concrete Form Stakeless Footing System