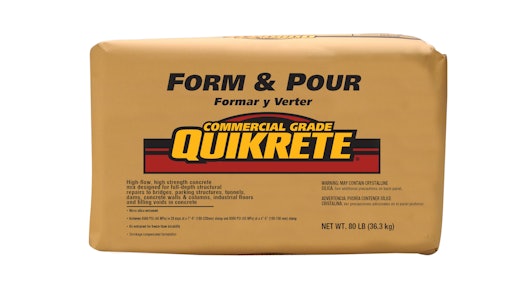 The QUIKRETE Companies, a manufacturer of pre-blended commercial-grade concrete products for building and rehabilitation projects, expanded its extensive line of structural repair products with the introduction of QUIKRETE Form and Pour. Designed to make structural repairs to bridges, parking structures, tunnels, dams, walls and floors, QUIKRETE Form and Pour is a high-flow, high-strength, shrinkage-compensated concrete delivered through a pump system for exceptional job site performance and efficiency. Form and Pour is a factory blended, micro silica enhanced formula of Portland cement, aggregates and chemical admixtures, used in building or repair applications requiring a high-quality concrete with a maximum aggregate size of 3/8".
Appropriate for vertical and horizontal rehabilitation projects 1 ½" to 24" because it can be mixed from a stiff plastic consistency to a free flowing virtually self-consolidating consistency.
Features agents to minimize plastic shrinkage, and an air-entraining additive for freeze-thaw durability that is especially helpful in cold regions of the country.
In 28 days, the material achieves 6,500 PSI at a 7" to 9" slump and more than 8,000 PSI at a 4" slump.
Available in 80-pound bags for approximately $10.
Request More Information
Fill out the form below to request more information about
QUIKRETE Form and Pour