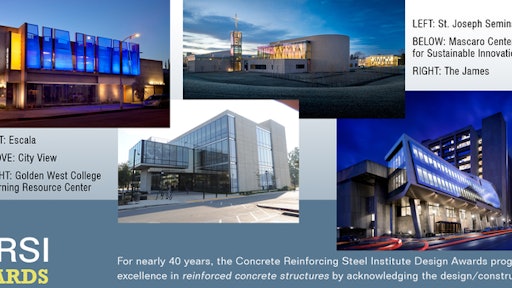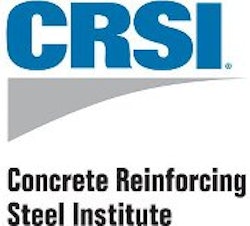 The Concrete Reinforcing Steel Institute (CRSI) has announced the winners of the 2012 CRSI Design Awards program. For almost 40 years the CRSI Design Awards program has honored excellence in reinforced concrete structures and acknowledged their designers. The CRSI Design Awards program is open to architects, engineers, contractors and fabricators — the entrants may be individuals or teams. Eligible structures must be located in the United States, Canada or Mexico.
Entries were evaluated on aesthetics, innovation, engineering achievement, functional excellence and economy of construction. According to Robert Risser, CEO and President of the Concrete Reinforcing Steel Institute, "The winning projects showcase the innovative design possibilities and qualities of using reinforced concrete and the exceptional collaborative management required during the construction of these outstanding structures."
Winners are as follows:
Multi-Family Residential Category Winner
Escala, Seattle, Wash.
Submitted by Cary Kopczynski & Company, Bellevue, Wash.
Comments: Superior technical merit was apparent in the approach to the design of the building's structural framing system.
Commercial Category Winner
The James, New York, N.Y.
Submitted by DeSimone Consulting Engineers, New York, N.Y.
Comments: This was a heroic statement of concrete's inherent capability, fully exploited by the design team.
Educational Facility Category Winner
Mascaro Center for Sustainable Innovation, Pittsburgh, Pa.
Submitted by Atlantic Engineering Services of Pittsburgh, Pittsburgh, Pa.
Comments: Creative design of the building's concrete column system created exceptional efficiency without compromising use or aesthetics.
Educational Facility Category Winner
St. Joseph Seminary, Edmonton, AB, Canada
Submitted by DIALOG, Edmonton, AB, Canada
Comments: Attention to detail in every aspect brought this building to a superior level.
Commercial Category Honorable Mention
City View, Los Angeles, Calif.
Submitted by Abramson Teiger Architects, Culver City, Calif.
Comments: Refined detailing set this project apart from others in this competition.
Educational Facility Category Honorable Mention
Golden West College Learning Resource Center, Huntington Beach, Calif.
Submitted by IDS Group, Inc., Irvine, Calif.
Comments: The stair feature on this facility was striking in appearance and very well detailed.
Entries for 2012 were judged by a prestigious panel that included John Boekelman, P.E., A.I.A., L.E.E.D., A.P., Cannon Design; James Dallman, A.I.A., La Dallman; and Ron Klemencic, P.E, S.E., Magnusson Klemencic Associates.
For a complete description of the CRSI Design Award program and contest rules, visit the CRSI Design Awards website page.
Companies in this article