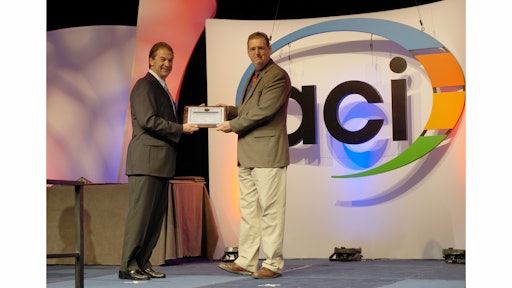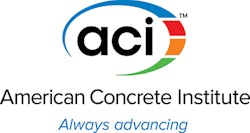 The American Concrete Institute (ACI) has presented its Distinguished Achievement Award to the Maryland Ready Mix Concrete Association (MRMCA). MRMCA is a proactive trade association that represents every ready mixed concrete producer in Maryland in the areas of promotion, government relations, technical matters, training, and education. The award was presented at the ACI Fall 2014 Convention in Washington DC, October 26, 2014.
The award is given to ACI nonmembers who have made notable contributions to the advancement of the concrete industry. MRMCA was honored for increasing the awareness of quality concrete construction in Maryland through leadership in the areas of promotion, advocacy, training, education, image, environmental stewardship, and technical matters.
MRMCA provides promotional support to help increase market share for concrete products on residential, commercial buildings, and paving projects. They provide the design community and building industry with the latest knowledge of new products and industry innovations.
The organization has a legislative voice to ensure that lawmakers understand the needs of the concrete industry. Recently, they introduced life-cycle cost legislation that would help transportation agencies select the best pavement alternatives.
Additionally, MRMCA is a technical resource providing support for their members' questions and industry challenges. They work with the Highway Administration to review standards and develop specifications for new products and applications such as pervious concrete, early-strength mixtures, and concrete overlays.
MRMCA provides educational and training opportunities related to the concrete industry. They are an American Institute of Architects (AIA) provider, offering continuing education for architects, and they administer the ACI certification programs for the Maryland Chapter – ACI by offering a variety of classes and exams throughout each year.
MRMCA is an Affiliate of the National Ready Mixed Concrete Association (NRMCA) and is a Partner in Promotion with the Portland Cement Association (PCA). Their active members and member volunteerism make them an effective and productive trade association.

For more information on the Distinguished Achievement Award, please visit www.concrete.org