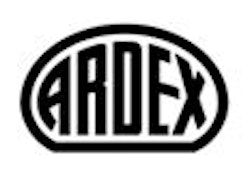 The CIM Program, a first-of-its-kind certification program for Floor Covering Installation Managers, has been built and released by FCICA (the Flooring Contractors Association).
Because of Bruce Newbrough's passion to educate the industry and in support of the CIM program, ARDEX Americas, with the support of nora systems, Inc., has created the Bruce Newbrough Memorial Scholarship in his memory. ARDEX Director of Technical Service and later Applications Development, Bruce was an integral part of the CIM program development. He passed away just as the certification program was nearing completion.
"Bruce loved FCICA," says Seth Pevarnik, Director of Technical Services for ARDEX Americas. "His passion was industry education and training, the same foundation on which FCICA is built. In consideration of the support that Bruce provided the industry, it's obvious that FCICA is the right partner for ARDEX to commemorate Bruce's passion for industry training."
ARDEX will support three Bruce Newbrough Memorial Scholarships annually for the next five years. After ARDEX announced its intentions to work with FCICA on this scholarship, nora systems, Inc. offered funding support.
"FCICA is honored, not only to have known and worked with Bruce Newbrough, but also to have this opportunity to work with both ARDEX and nora towards our common goal of a standard of excellence for Installation Managers in the Certified Installation Manager Program," states Gerry Swift, FCICA Chairman.
Scholarships are open to applicants until June 1 and will be awarded in July. A scholarship is not required to participate. Fees for FCICA members are $1,225.00 and $1,570.00 for non-members, which includes the application fee.
The program involves eight learning modules and their related assessment tests:
Utilizing the Estimate to Establish and Manage Installation Costs
Planning the Job
Understanding Contractual Obligations
Scheduling and Assigning Resources for Installation
Managing On-site Conditions
Managing Change Orders On-site
Financial Management; Budget vs. Actual
Closing out the Job
Floor Covering Installation Managers who have demonstrated exceptional commitment to excellence in proper substrate preparation and installation of floor covering are encouraged to apply online here.