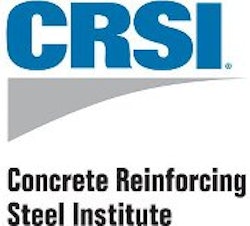 The Executive Committee of the Concrete Reinforcing Steel Institute (CRSI) has appointed David McDonald, Ph.D., PE, F.ACI as the 11th President and Chief Executive Officer of the Institute effective immediately. Dr. McDonald will continue to oversee daily operations as well as directing future progress of the CRSI as he has for the past three months as interim president.

"All of the candidates we met were solid and well versed in the issues and challenges of steel reinforced concrete. The leadership and management skills demonstrated by Dr. McDonald while interim president were key elements in our choice of a new executive", according to Chairman Scott Stevens.

Previously, David was Managing Director of the Epoxy Interest Group of CRSI where his efforts included steering technical and marketing efforts.

McDonald's prior experience was a Senior Research Associate at a Fortune 500 organization where he had both personnel and financial responsibilities and as a Consulting Engineer specializing in construction materials. Dr. McDonald obtained both his bachelor's and doctorate degrees in Civil Engineering at the University of Sydney Australia.

David has participated in many technical committees including those within CRSI, ACI, ASTM and NACE. He has published many peer reviewed documents on durability of construction materials and is well known in the concrete industry. He is a licensed Professional Engineer in Illinois and has participated in management classes from Kellogg Business School at Northwestern University and the American Management Association.


Companies in this article