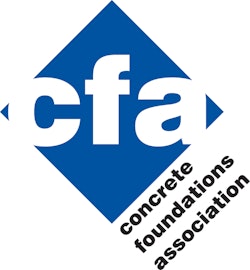 The Concrete Foundations Association (CFA) – the recognized voice and authority for the cast-in-place concrete industry, has opened registration for the 2017 Concrete Foundations Convention, the largest annual gathering dedicated to the cast-in-place concrete industry, July 20-22, in Nashville, Tenn.
The event brings together the industry's leading contractors, suppliers and manufacturers for three days of education, certification, the newest products and technology, networking and awards. The Concrete Foundations Convention features numerous opportunities to accelerate your business into key areas for profitability, control and excellence. Education topics will cover everything from technical issues on-site to business management solutions in the office.
In addition to the traditional three-day full convention registration, the CFA is also offering a one-day opportunity to interact with the Concrete Foundations Convention.
"This one-day registration is intended for the regional industry and those companies wishing to raise the level of knowledge for their key workforce," says James Baty, executive director of the CFA.
One-day registration, taking place on Thursday, July 20th, includes morning education, lunch, product training and entrance to the featured Kick-Off Bash, sponsored by Schwing America, for networking, libations, dinner and live entertainment. The afternoon of the one-day registration will also offer an opportunity to sit for the ACI/CFA certification exam under separate registration.
For more information and registration options, please visit www.cfawalls.org/events.