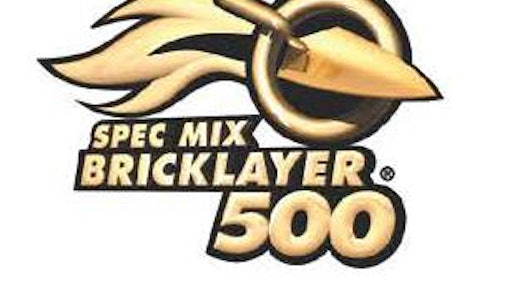 July 22nd marked the start of the 2017 SPEC MIX BRICKLAYER 500® Regional Series of qualifying competitions in Piney Flats, Tennessee. The 24-stop North American tour establishes the final roster of teams competing in the 2018 World Championship in Las Vegas at the World of Concrete tradeshow. This will be the 15th season that SPEC MIX® and it's co-sponsors will host the annual series of events initiated to showcase the determination, spirit and expertise of masonry's skilled craftsmen.

2017 REGIONAL FIRST PLACE WINNERS TO-DATE (7/22/17 to 8/19/17)
East Tennessee
Mason – Brian Wade - 624 bricks
Tender – Brian Mullins
Wade Masonry, Inc., Stanton, Ky.
Ohio
Mason – Emilio Dibra - 572 bricks
Tender – Charlie Cheatham
United Masonry – Highland Heights, Ohio
Utah
Mason – Trint Pierce – 562 bricks
Tender – Alex Groesbeck
Kim Pierce Masonry, Spanish Fork, Utah
Wisconsin
Mason – Jake Brock – 488 bricks
Tender – Nick Miller
Brock Construction, Fort Atkinson, Wis.
British Columbia
Mason – Riel Voigt - 697 Brick
Tender – Josh Shelley
S&S Masonry, Langley, BC, Canada

There are 19 more Regionals to go this year. Find a location near you 2017 SPEC MIX BRICKLAYER 500 Regional Series schedule. It will be a banner year for the SPEC MIX BRICKLAYER 500® program by setting a record high total of 24 qualifier rounds that will take place in 20 US cities and 4 Canadian provinces. The winners of each Regional Competition will earn a spot to compete in the 2018 SPEC MIX BRICKLAYER 500® World Championship held at the 2018 World of Concrete trade show in Las Vegas, Nevada on Wednesday January, 24th.
For masons who believe they have what it takes to be the next "World's Best Bricklayer," the Regional Series schedule is a call to action to put their skill, speed and stamina to the test. By winning first place at their local competition, the finalists advance to Las Vegas where they face the ultimate battle—taking on the returning Champion, Matt Cash of Huntley Brothers Company, Mint Hill, N.C. and SPEC MIX TOP CRAFTSMAN winner Brian Tuttle of Quik Trowell Masonry, Clearfield, Utah. Revered as the masonry industry's Super Bowl, the intensity level in the SPEC MIX BRICKLAYER 500® Arena heats up quick when 4,000 spectators pack the house to cheer on the 27 world-class bricklayers competing for over $100,000 in cash and prizes, including a Ford F-250 Super Duty 4x4 truck.
The SPEC MIX BRICKLAYER 500® was created to give back to the masonry trade. Developing the next generation of skilled masons and promoting quality craftsmanship remains the top priority of the campaign. The energy and excitement driving the event makes it the perfect workforce development initiative for recruiting new bodies to the profession while motivating experienced bricklayers to reach higher levels of performance.
One thing is certain, the SPEC MIX BRICKLAYER 500® movement has ignited the passion, pride and competitive drive of masons around the world. Backed by all its sponsors, including new Platinum sponsor Hohmann & Barnard and Gold sponsor JAG Clamp, the event is laser focused on its mantra: Keeping the Trade Strong!
All masons interested in competing in a Regional Series competition should contact your local SPEC MIX representative for a registration form, or speak to your local masonry products dealer; they will connect you with our representative. For more information on the SPEC MIX BRICKLAYER 500® program please visit the event website. www.smbl500.com
The SPEC MIX BRICKLAYER 500® is supported by a family of outstanding sponsors who support the program's mission: KEEPING THE TRADE STRONG! These generous organizations are listed below:
Platinum Level Sponsors

SPEC MIX® QUIKRETE Companies
Ford Commercial Vehicles
Hydro Mobile
Multiquip, Inc.
The Belden Brick Company
STABILA
Hohmann & Barnard, Inc.
Gold Level Sponsors

Prism Pigments
Marshalltown Company
STIHL Inc.
Mason Contractors Association of America
iQ Power Tools
Blaklader Workwear
JAG Clamp

Contributors
GATORBACK Mortarboards
Easy-Spred
AZ Best Block
Safway Group
Jackson Professional Tools
Xtreme Manufacturing