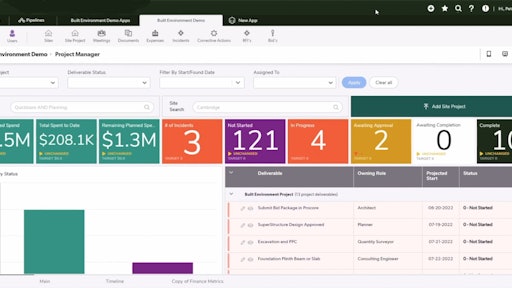 Quickbase
Boston-based Quickbase, which offers software enabling companies managing complex projects to rapidly create software solutions, announced today a collection of pre-built applications for the construction industry.
While Quickbase's primary business model is to provide tools for companies to use a no-code environment to create their own software-enabled workflows, construction companies benefit from more pre-populated content to speed time to value. These applications stem from Quickbase's January 2022 acquisition of their Lorain, Ohio-based partner, MCF Technology Solutions, a services partner and solutions provider that had configured industry-specific solutions using Quickbase.
Quickbase has more than 2,100 construction contractor customers, but in a February 2022 debriefing session, CEO Ed Jennings said they saw a growing need in the construction sector.
"In buying MCF, what we got was the technology and tools that they built like their project Gantt chart," Jennings said. "Our construction customers need that, or maybe they need an application built for environmental health and safety (EHS), or dashboards for owners and operators or program management tools. What we are launching with their help is a package containing their tooling, so contractors can immediately out of the box do things like check requirements for COVID-19 vaccination on an app on phone. We are packaging up some of those common uses, and integrating with Procore and other software products common in construction."
Apart from MCF's library of solutions for construction, Quickbase users can access a library of solutions created in Quickbase through the software company's user community
No Code Software for Contractors
While these solutions can then be evolved by contractor personnel with no technical or coding skills, using a visual interface, there is some bandwidth and business acumen required to identify a need and satisfy it with a digital workflow. Because of this, the pre-populated content from MCF and the roughly 40 employees the acquisition brings drive value for contractors who may not have a business analyst function that would typically align technology to processes and business needs.
"This means contractors can use all of this pre-developed functionality, get all that technology and a group of professional services folks takes weeks rather than months to get stood up," Jennings said. "
But in most settings, Quickbase's value proposition is focused on offering not a pre-mapped solution built around standard processes, but the tools for a contracting or other business to chart their own course around their unique processes.
"Low code and no code is attractive because people don't want to change what they do," Jennings said. "A lot of that uniqueness is key to how they built their business. Off-the-shelf software technology that forces them to change is a losing idea. That is why standard technology has had a hard time. Contractors have many people in the field and many people in remote offices. By forcing them to change how they track things and where they keep data, you put any technology project at serious risk."
Quickbase in the meantime provides the ability to identify specific needs and develop a solution around it.
"How do you want to look at a financial dashboard?" Jennings asked. "Let's take that and figure out how to do exactly that. No code is important though because 85 percent of our active builders have no tech background."
According to company sources, the software is used to develop solutions both for use within a contracting business and for collaborative use by generals, subcontractors owners, designers and the rest of the building team, providing the ability to create digital workflows both internally and externally.
"There is not a commercial-off-the-shelf (COTS) tool that does everything that people need," Quickbase Principal Solutions Consultant Peter Rifken said in a February 2022 debriefing call, adding that a standard solution also creates the problem of shelfware. "You will find that people purchase something and then actually use between 30 and 70 percent of what they just bought. There is no software perfectly crafted in that way. COTS means a trade-off. People are making purchasing decisions and they ought to get exactly what they need."
Quickbase tech stack
Quickbase is built around a proprietary in-memory database and reporting infrastructure. The application is not a system of record, but rather a service that enables users to create applications that act on the data in a system of record like enterprise resource planning (ERP) project management or other software. Quickbase relies on a process-based framework to access information in these systems of record, pushing and pulling data in and out of them using pre-built connectors. In some cases, Quickbase will drive immediate value by providing consistency and governance around processes that otherwise would be performed on data in an ad hoc tool like Excel.
And in construction, even larger contractors are often running ERP or financial software that is on-premise and tough to access through the cloud. Quickbase provides the ability to extend these legacy solutions in new ways in a web-friendly interface. Integration with on-premise applications happens either through pre-designed connectors, or customers can use a no-code interface for a built-in Open Database Connectivity (ODBC) tool. Quickbase also provides tools to normalize data coming in from disparate sources, and added a set of RESTful application programming interfaces (APIs) in mid-2020.
Pipelines, the primary tool contractors and other businesses use to codelessly structure solutions, came through the 2019 acquisition of the Bulgarian company Cloudpipes.
BOTTOM LINE: Quickbase is identified by analysts as a leader in the citizen developer or no-code development tool sector. Contractors going this route though will want to gauge their own ability to intelligently align technology to their business needs given their internal bandwidth and skill sets. The question of who will support the tools a contractor develops internally also ought to be examined as there will be no software vendor to trouble shoot or bring new capabilities or innovation to a custom solution. Quickbase may be a particularly elegant solution, however, for joint ventures, large projects and other settings where ad hoc teams come together and will benefit from the ability to structure digital workflows around the requirements of individual contracts or owners.
Companies in this article