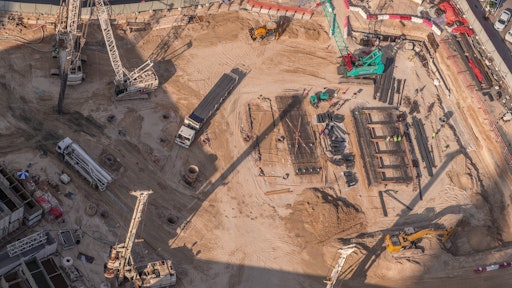 @neiezhmakov - adobe.stock.com
One common use case for artificial intelligence (AI) in construction is extraction of data from documents. Take-off software like Togal.AI, Patabid and a new offering coming from Zetane use machine learning to identify and pull crucial information from documents including plan sets, RFIs or drawings, helping to avoid costly oversights and streamlining the bidding process.
Now, Civils.ai, a plucky startup with an international staff and growing global customer base is applying similar thinking to planning and design in geotechnical engineering.
The sheer volume and complexity of data engineers and civil contractors must digest in preconstruction is substantial. The Civils.ai website may be worth a visit for a broad spectrum of engineers and civil contractors, with its assortment of free estimating, planning and calculation tools for geotechnical, structural and tunnelling projects. But the company's current focus is on its geotechnical and civil construction planning AI tool.
"Our solution is almost global," Civils.ai Co-Founder and COO Mirko Vairo said. "We are covering most of the main countries all over the globe including the United States and Canada as well. So we have quite a few companies using the platform in the U.S."
As the customer base grows, the company will also work to grow the footprint internal to each customer.
"We are still in starting stage," Vairo said. "We are working with teams within each customer, so we are not yet often used by an entire corporate organization. But we have teams inside engineering offices at companies like (global planning, engineering, architecture and landscape architecture giant) Stantec, for example. We also have contractors, using us on single projects."
The pre-seed company, founded in 2022, currently employs 10, with corporate functions like engineering, sales and marketing lead by company founders.
AI for Civil Engineering and Planning
Geotechnical and civil engineers face the same challenges other construction professionals do in early project stages, and Civils.ai was, according to Vairo, founded to solve them in much the same way as solutions aimed at other preconstruction sectors.
"As an engineer starting a project, be that a structure or infrastructure, I have to collect data and build a preliminary design, I need to run manually through a lot of documents," Vairo said. "This is very inefficient. It takes time, and in most of the cases, you are not able to collect all the information. All that information is trapped inside of PDFs—you need to manually scan thousands of pages. We wound up asking ourselves—'Why don't we try to solve this problem for engineers?' Autodesk and FMI estimated the additional cost for construction companies from this problem at $2 trillion."
Using Civil.ai, users can harness AI to extract data from PDF borehole logs and site investigation report, porting data to a private map in the application. Users can also export British Geological Survey (BGS) boreholes as Association of Geotechnical and Geoenvironmental Specialists (AGS) files and to Excel.
Visualization tools in the software provide simplified 3D modeling and 2D section tools to enable engineers to quickly understand the site.
Engineers pulling geotechnical reports in PDF format into Civils.ai quickly get back borehole geological description names, layer thicknesses, test data, water level, ground level, and other data points. When AGS data is available, it, too can be pulled in and viewed alongside data from PDFs.
Geotechnical AI in Procore
While Vairo said his company is currently pursuing integration partners, it has an existing partnership with Procore. This partnership may be deeper from a technical standpoint than some other Procore partnerships, according to Vairo.
"Civils.ai can be embedded or act as an external seller," Vairo said. "We are building up our embedded functionality now. When a partner builds software that can be embedded in the solution, you try to build a connection between your solution and theirs. A partner with an embedded solution makes their solution available from inside the application … It is more like you are part of their system at that point. With the other option, you are just listed on the Procore Marketplace, which sends people to you."
ChatGPT Tool Coming
While the core AI functionality of Civils.ai is focused on engineering-focused data extraction, Vairo said the company is also pursuing a ChatGPT interface.
"This Chat GPT tool is something we train on their documents so they can ask questions about the project, design, compliance or United States building codes," Vairo said. "Users can start asking technical questions to quickly summarize elements of the project. The other piece to consider is that sometimes in those documents, they have data they need in digital format so they can build the ground model or structural model. Often this does not translate manually from PDF, and we can do this automatically."
Improvement Over Human Intelligence
While saving time is desirable, if extraction is inaccurate, more time could be wasted later than was initially saved. Other AI-driven data extraction tools like Togal.AI have focused on ensuring their solution could out-perform humans. Civils.ai accuracy improves with more modern PDFs, according to Vairo.
"On the AI side, currently, our models are around 80% accurate," Vairo said. "That is in part because 20% of the logs existing all over the world have these PDFs existing all over the world, they are pre-1980. So very often when we encounter those PDFs, they are blurred because they started with a scan of the page. We are putting a lot of effort in fine-tuning our models in order to be reliable for that kind of PDF."