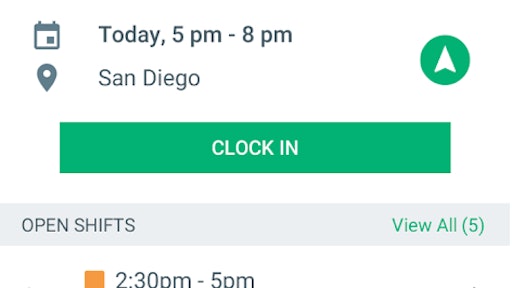 Mobile app: Ximble Employee Scheduling and Time Clock
Developer: Nimble Software Systems Inc.
Cost: Subscription based
Available on: Apple and Android devices
Manage work schedules and timesheets from your mobile device and help eliminate "buddy clocking" with Ximble's Employee Scheduling and Time Clock mobile app. With the Ximble mobile app, employees can use their mobile devices to set availability, check schedules, clock in and out, submit time-off requests, swap shifts and manager their profiles.
[VIDEO] Ximble Mobile App Time Clock Feature
Additionally, an employee's GPS location can be stored with each clock-in entry (feature must be enabled). Plus, Geo-fencing allows employers to designate certain physical areas where employees can check in, blocking any attempt to check in outside those areas.
For employers who prefer employees all use one device to clock in and out – rather than their individual mobile devices – there is also the Ximble Kiosk tablet app.
With Ximble Kiosk, the time clock feature allows for employee check-in and check-out using PIN codes or QR code scanning or an optional photo image check in. The photoClock feature helps verify employees' identities during check ins. This feature, which can be turned on and off, uses the device's built-in camera to take a picture during every clock in. Ximble Kiosk is available for the iPad and Android tablets.
App features:
Employers and employees can check schedules and set automatic shift reminders
Open shift alerts when shifts need to be filled
Provides history of clock-ins and clock-outs
Integrates with Ximble.com platform with customizable scheduling software, dashboard management ,ximbleChat, mobile time clocking and more
Integrates with leading payroll, accounting, HR and point-of-sale systems