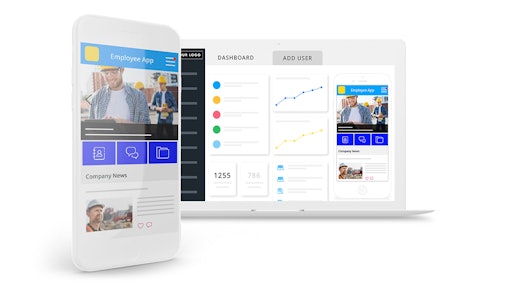 Mobile app: Staffbase Employee App
Developer: Staffbase
Cost: Varies by customization
Available on: Apple and Android devices
Staffbase is a managed, ready-to-brand SaaS (software as a service) mobile intranet app allowing employers to connect and communicate with their workforce via mobile devices or desktop computers. The standard app is customizable depending on a customer's needs and use cases.
[CASE STUDY] With an Employee App, PORR and SAK Construction Lay the Foundation for Effective Internal Communication
With Staffbase, contractors can create a tailored internal communication solution that can evolve with the company's digital workplace.
Staffbase has many features including a news functionality that allows for publishing articles in three different templates and multiple channels with push notifications. The pages functionality is designed for publishing static content like resource libraries, lists and guides.
[CASE STUDY] Sampson Construction Builds a Culture of Wellness with Their Employee App
App features:
Document uploads
SharePoint and Facebook integration
Events calendar
Employee surveys and questionnaires
Group chat conversations
Push notifications
Mute chats to not receive notifications or unread badges
Upload videos to news posts and pages
Brand and customize with your company's logo and more
Spaces features allows content management for multiple company locations
Enterprise-grade security
Multiple options for user onboarding
Price quoted per employee with additional costs for some plugins and features