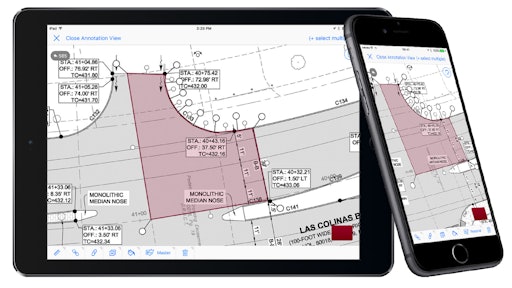 Mobile app: HCSS Plans
Developer: Heavy Construction Systems Specialists, Inc.
Cost: Free
Available on: Apple devices
HCSS Plans is a digital plan management solution designed for the heavy construction industry. The Web- and mobile-based applications allow contractors to upload and publish any set of PDF plans, perform takeoffs and add markups which can be seen instantly.
Mark revisions with clouds, link to call-outs and mark key areas with polygons. You can also add notes, photos, audio clips and short videos. 
App features:
Quick Publish for fast, one-step PDF document uploading
Dual scaling: vertical and horizontal

 

Multiple calculators for jobsite items such as asphalt, concrete, trenching, trucking and more
Pan and zoom plan sheets
Overlay versions and highlight changes
Compile all plans into as-builts
Download plans to mobile devices and view offline
Automatically syncs when device returns online
Seamlessly works with other HCSS solutions