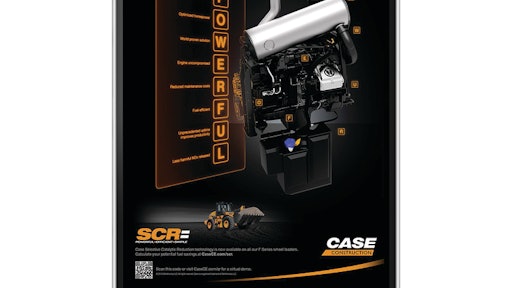 Case Construction Equipment has released the 'Case Experience AR Application' that brings its products and solutions to life on mobile smartphones or tablets through Augmented Reality (AR) technology. The free app lets customers engage with Case products through interactive and 3-D features, videos, animations and voice-supported text on mobile devices.
AR technology is the process of superimposing digitally rendered images onto real-world surroundings, giving a sense of virtual reality. Use of the technology is rising with the popularity of smartphones and tablets. 
Video: Is Augmented Reality the Future of Construction Safety?
The first use of the 'Case Experience AR App' is now available on print advertisements for Case's selective catalytic reduction (SCR) technology available on the F Series wheel loaders. Through the application, customers can see how SCR works to deliver a 12 percent increase in fuel efficiency along with faster acceleration, quicker cycle times, and less downtime.
"The 'Case Experience AR App' demonstrates the power and simplicity of SCR technology for generating peak, fuel efficient engine performance while converting NOx to harmless nitrogen and H2O emissions," says Campos.
The application can be downloaded from Casece.com/ar, Google Play for Android devices and Apple iTunes for the iPhone and iPad. The augmented reality print ads can be viewed on the Case Construction website and in several construction industry magazines.
Pointing the tablet or phone camera at one of the two AR ads with the black and white QR code at the bottom brings up a 3-D, interactive view of how SCR technology works. Touching the separate markers or images on the device screen launches several voiceovers that explain why SCR is better for customers' operations and the environment. Users also can touch the Case logo at the bottom of the screen to sign up for more information or to request a product demonstration.
The 'Case Experience AR App' is optimized for the iPhone 5 and is compatible with the iPhone 3GS, iPhone 4, iPhone 4S, iPod touch (generations 3, 4 and 5) and iPad.
It requires an operating system of iOS 5.1 or later.
Companies in this article