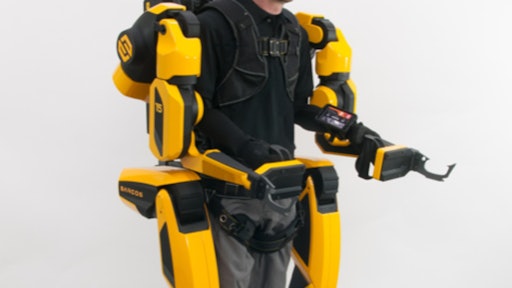 Sarcos
Exoskeletons, exosuits and wearable robots are slowly making their way into the construction industry. But this technology is much more prevalent than we may realize. These types of wearables have been in the works for more than 50 years, but practical commercialization is a relatively new development. According to an article from Forbes written by Borislav Marinov, "In just five years, exos for industrial use have gone from virtually zero to approaching 10,000 commercially purchased units."
Adoption in the construction industry may be slower, but these types of wearable are no doubt a part of the industry's future. What's lacking right now in the exos industry is standards. Forbes quotes Marinov, "Unfortunately, lacking exoskeleton standards is holding back the adoption of this technology. Without standards, there is no consistent terminology or test methodology. In addition, there are no best-use practices or guides."
In January 2019, ForConstructionPros.com featured a blog about exoskeleton robots and their application for the construction industry. The article asked the question, "Are Human Robots the Future of Construction?"
The ForConstructionPros.com article took a look at just one exoskeleton option available to the construction industry and explored how its use could be a benefit for the industry, particularly as the industry continues to struggle with filling skilled labor positions. What's cool about these exosuit options is that they can incorporate robot technology into the construction industry without eliminating jobs. A human is still needed to operate the suit, so the suit isn't eliminating that person's job but should be making it easier. Plus, these suits could have a positive impact on improving safety and wellness of construction workers.
Read next: Robots and AI Spell Change for Workers, Not Replacement
The Forbes article brings to light a new side to the discussion very relevant to adopters in the construction industry — the lack of best-use practices and standards.
Adoption of exoskeletons and exosuits into the construction industry is a pretty big and novel concept. There's a lot to think about. The Forbes article voices concerns users may not consider, including questions about best ways to store these wearables between uses and best practices for cleaning. These concerns may seem trivial at first, but these issues could snowball for users without having a best-use practice or standard to refer to.
The good news is that standards organizations including ASTM International and the International Organization for Standards have already started working on standards for exoskeletons. So if you're looking to become an early adapter of these wearables in the construction industry keep tabs on standards that will be coming down the line.
Read the entire Forbes article, "Lack of Exoskeleton Standards Is Holding Back Their Adoption In the Workplace."

If you didn't see the ForConstructionPros.com exoskeleton article originally published in January 2019, or you want to re-read it, you can check it out here.

Discover more: How Construction Exoskeletons Work: An Animated Guide