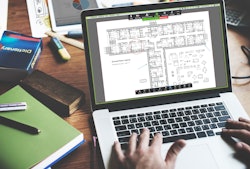 Zoom
A 2017 study by McKinsey & Co. estimated construction to be among the least digitized sectors in the world, with digitization representing a $500 billion opportunity for productivity improvement in the U.S. alone. But the industry has historically proven a slow adopter, reluctant to embrace even technology widely accepted in other industries. The still somewhat sporadic use of enterprise resource planning (ERP) software for managing day-to-day business activities, especially among small and mid-sized construction firms, is a prime example.
Yet, the industry is progressing, albeit slowly, and even before COVID-19 hit it was in the initial throes of increasing technology adoption. While hardly an industry-wide transformation, a number of construction firms had or were beginning to see the opportunities certain types of technology – such as ERPs, machine grade control, telematics, building information modeling (BIM) and drones – could provide to enhance jobsite productivity and reduce project costs.
The construction industry, perceived as one of the last relatively "untapped frontiers" by technology providers and investors alike, soon attracted major players expanding into the construction space, as well as startup operations hoping to capture a share of the perceived wealth in an industry that makes up a sizable chunk of the global economy. With construction singled out as an essential industry during the pandemic, the trend accelerated, with a plethora of high-tech hopefuls entering the fray and financial backers more than happy to supply seed funding.
New offerings catered to construction business owners who may have been on the high-tech fence prior to the pandemic but were forced to look at new avenues to communicate both internally and externally; monitor project progress; manage employees and safety on site; ensure fleet maintenance demands were being met, etc. – with most of it being done remotely. A tech "revolution" of sorts began to emerge.
But that revolution has hinged largely on pandemic-related demands. The question is: Can it continue once the pandemic's influence is no longer in place?
Pandemic-led Technology Adoption
The early days of the pandemic proved a rude awakening as all facets of industry came to a screeching halt. Once construction was allowed to continue in most regions, contractors had to come to grips with COVID-related restrictions both in the office and on jobsites. Interactions between workers proved hard enough; interacting with the rest of the world proved an even bigger dilemma.
Enter programs such as Zoom, Microsoft Teams, WebEx and others. While largely foreign to most contractors pre-COVID, such platforms soon became a lifeline, enabling companies to maintain critical face-to-face interactions with project stakeholders, equipment and materials suppliers, government agencies, dealer service support, etc., to ensure crucial communication continued to take place. They also enabled team meetings and training to take place without the risk of bringing employees into classrooms or other enclosed spaces.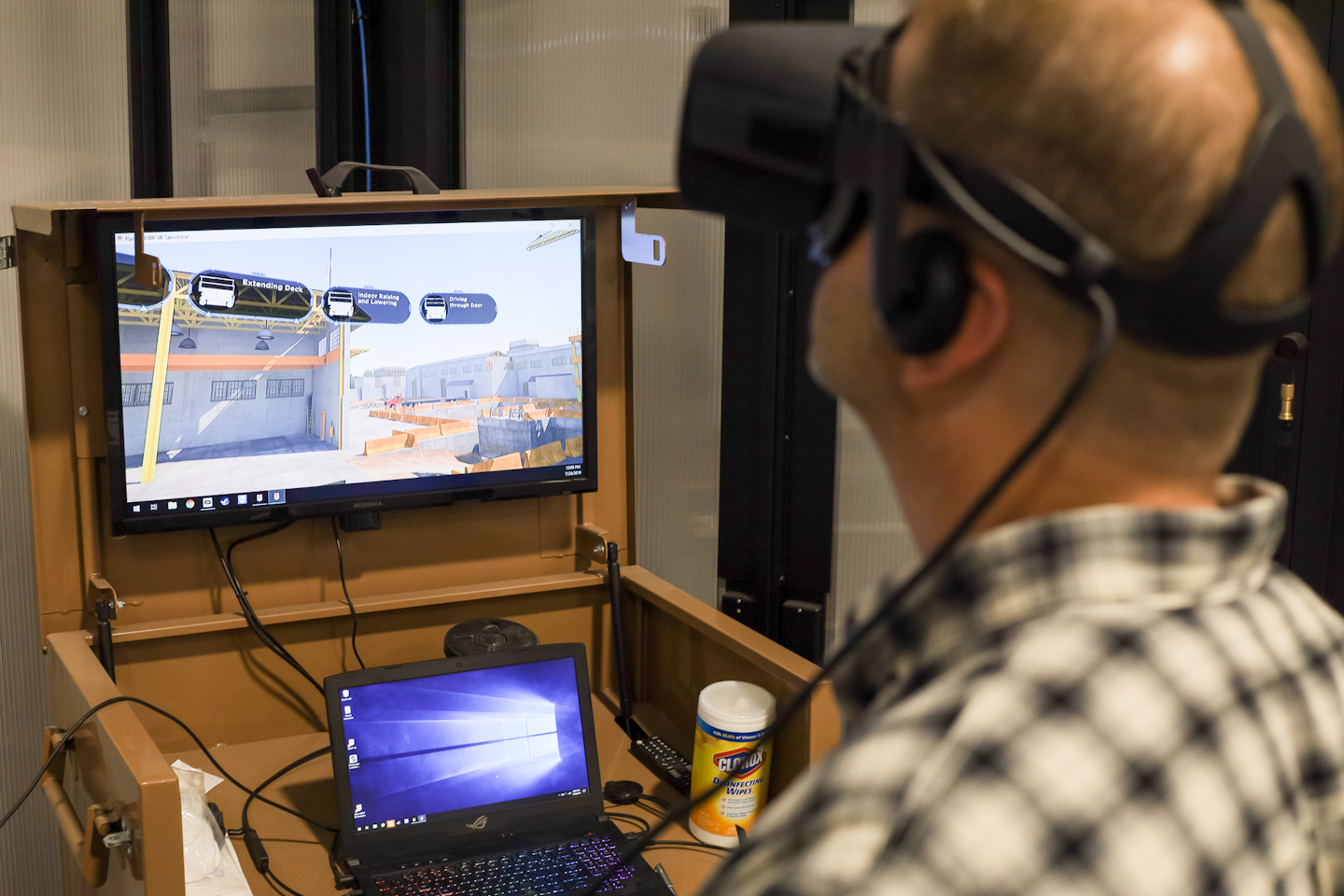 Cloud-based project management and related digital collaboration platforms have become essential on many projects, providing a window into projects for all stakeholders.RosendinCloud-based project management and related digital collaboration platforms such as building information management (BIM) became essential on many projects, providing a window for project stakeholders to oversee projects and address issues before problems developed. They enabled all parties  to "see" what was happening on site without being physically present, and everyone was on the same page since any updates were readily available, often in real time, to all users. Combined with augmented and virtual reality, tools such as building information modeling became ever more powerful in helping to communicate the real-world ins and outs of the construction process and progress.
Drones saw expanded use as contractors began to look beyond traditional applications for these high-tech tools. Once used largely for inspections and capturing visuals of projects, uses grew to:
pre-bid site surveying and inspection, minimizing the need (and cost) for on-site visits by survey crews;
regularly tracking project progress and production rates;
monitoring material stockpiles;
tracking people and equipment locations for site safety and security and more.
Increasingly sophisticated built-in cameras and sensors meant the volume of data a single flyover could capture grew exponentially and became even more valuable to the construction process.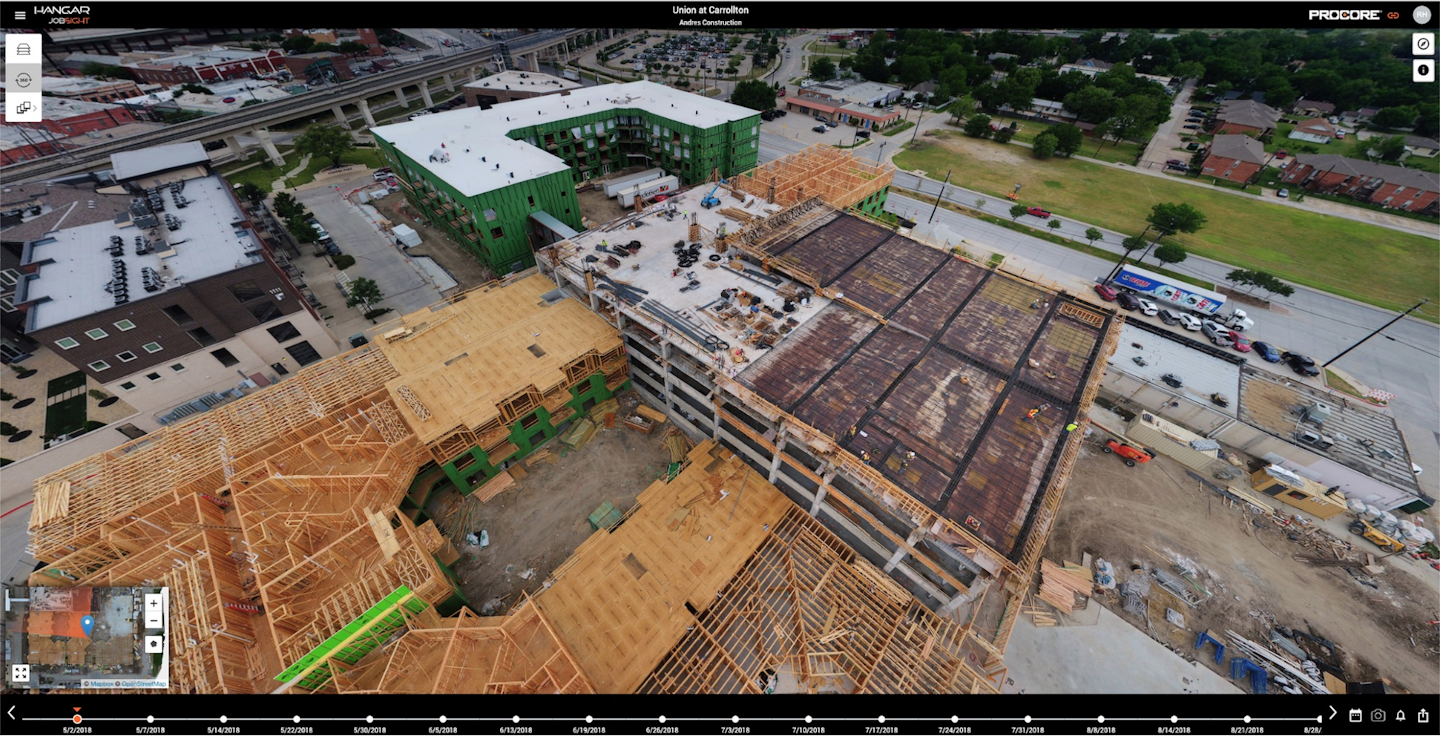 Companies such as ANDRES Construction use a drone service and app to document progress on site, creating ever-broadening value to its operations.ANDRES ConstructionAlready emerging as a key asset in fleet management, the value of telematics was cemented for many fleet managers during the pandemic. It enabled them, as well as dealer service technicians, to closely monitor fleet health from a distance, while ensuring service work was completed with the fewest trips and interactions possible, and at times when other workers weren't necessarily present. The ability to troubleshoot systems remotely – and convey that information to operators or techs on site – has proven invaluable in a time of social distancing, as has the advent of over-the-air updates that enable machine updates to be completed on site and generally at the users' convenience.
Just a few of the other technologies seeing growth during the pandemic include:
Electronic ticketing (e-Ticketing): Largely in its infancy prior to COVID-19, e-Ticketing has surged, driven largely by state DOTs seeking to capture the necessary information on truck loads without requiring physical interactions between inspectors and drivers.
Check-in stations: QR codes or apps for checking in workers and visitors, temperature sensors, sanitizing misting systems and more have materialized at the entrance of jobsites, all designed to minimize the risk of a COVID positive individual gaining access and spreading the virus to others.
Contact tracing systems and health monitoring: Not surprisingly, a number of companies introduced sensors and apps to track employee whereabouts and interactions, monitor health and well being and enable contact tracing in the event of a positive test among a company's workforce.
Construction job boards: A number of new construction-focused job boards were launched to specifically address the industry's labor shortage. While many were under development prior to the pandemic, their emergence throughout 2020 underscored the need for connection and community during an especially difficult time for the industry's workforce.
Where Will It Go From Here?
The list of technologies seeking root in construction throughout the pandemic is extensive. But which ones are likely to take hold and survive in a post-COVID environment?
This is a question only time can answer. Yet, the prospects are that many will find a place in construction operations going forward. For example, using drones to conduct pre-bid inspections doesn't just limit social interaction; depending on a project's location, it could save significant time and travel costs compared to sending a crew on site. And while e-ticketing limits physical interaction now, it promises to dramatically improve efficiency and reduce potential errors associated with the traditional paper ticketing process, a gain that extends well beyond the current environment. Even those technologies that seem to have a limited shelf life, such as check-in stations and contact tracing systems, may have post-pandemic applications in jobsite security and monitoring worker health and safety.
Over the past year, the pandemic has necessarily torn down barriers to tech adoption that have existed for decades, opening eyes to how different technologies can help improve efficiency and productivity, minimize costs and enable companies to deliver projects successfully and profitably – even given the obstacles the pandemic also brought with it. If the past 12 months have produced any positives for construction, this may be the one with the most lasting impact.