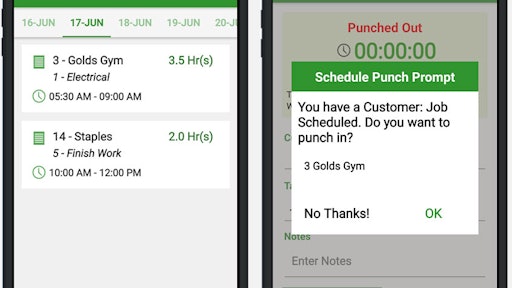 UPDATED DECEMBER 2017
Mobile app: Timesheet Mobile
Developer: Freedom Telecare
Cost: Free to download with monthly subscription
Available on: Apple and Android devices
The Timesheet Mobile app offers a GPS-enabled time, attendance and scheduling solution to track employee hours worked, jog locations and capture task information to support invoicing, payroll processing and mobile workforce management.
The app also integrates seamlessly with QuickBooks and FreshBooks to simplify the payroll and customer invoicing processes.
The app features proprietary Punch Prompt functionality which uses a phone's GPS location feature to create a geofence around an employee's punch in location at a remote jobsite. The app can then monitor the employee's location while on the clock. If the employee leaves the location the app prompts him or her to punch out. Timesheet Mobile also allows employers to know workers are on site during work hours while protecting the privacy of workers when not on the clock.
Timesheet Mobile also now features Project+, an add-on to the geofencing time tracking system. With Project+, users get team messaging (including immediate multilingual translation for messages), checklists and photo sharing. The checklists can be modified in real time and notify the whole team when a task is completed or updated.

Video: Employee Location Tracking with Timesheet Mobile App
While the cloud-based app is free to download, use of the app requires a corresponding monthly Timesheet Mobile subscription configured for use with the app.
(More Timesheet Mobile how-to videos…)
App features:
GPS-enabled geofencing location technology
Punch Prompt reminders to help accurately punch in and out of shifts
"Over 10 Hour" alerts for employees
Overtime alerts
Offline time capture
Comprehensive employee scheduling capability
QuickBooks and FreshBooks integration for fast payroll and customer invoices
Employee "timesheet approvals" for instant log corrections
Employee task/mileage/notes entry