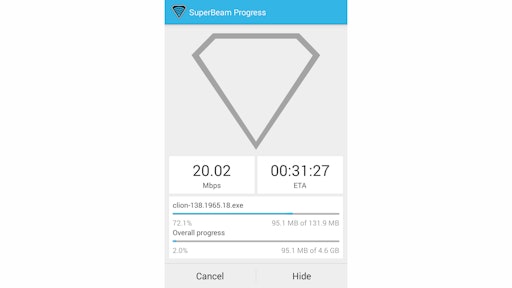 Mobile app: SuperBeam – WiFi Direct Share
Developer: LiveQoS
Cost: Free
Available on: Android devices
Mobile devices and mobile apps are becoming commonplace on the construction jobsite. However, a lack of a WiFi connection can prohibit the use of some devices, apps and especially file sharing. The SuperBeam file sharing app allows users to transfer large files between any two Android devices without a traditional network connection. Instead, the app uses WiFi direct technology to transfer documents, photos, videos and even folders – no data connection needed. This enables contractors to share files no matter how remote the jobsite is.
App features:
Pair devices using NFC or QR code scanning - no manual searches, passwords or prompts required
Share with devices that do not have SuperBeam through web interface
Share single or multiple files of any type (photos, videos, zip files, APK's, etc.)
Send unlimited number of files of any type and size as long as the receiving device has enough space to store them
Automatically adds unique number to files to prevent duplicate file names
Switches to hotspot mode automatically for devices that do not support WiFi direct
Can use existing WiFi network connection between devices if WiFi direct fails
SuperBeam PRO version available – allows user to send to more than one device at the same time