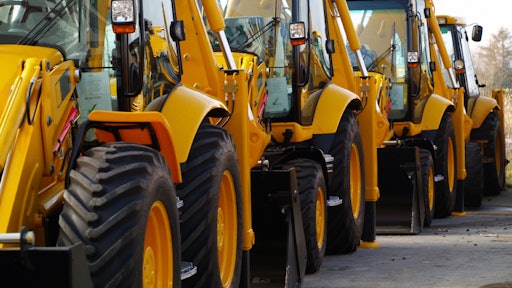 For many of today's contractors, fleet management is part of the job. But make no mistake, it's not an easy one. From high maintenance costs to underutilized assets, there are plenty of challenges standing in the way of an efficient and profitable fleet.
To help make the most of equipment ownership, many contractors are giving telematics a try. In fact, more than 60% of equipment users say their fleets have telematics capabilities.
By providing a wealth of information — including location and usage data — telematics can boost a fleet's ROI while also improving security. Best of all, contractors don't have to wait long to reap the benefits.

Check out three ways contractors can integrate telematics into technology they're already using to quickly build a safe and secure fleet.
One-touch security
According to the National Insurance Crime Bureau, nearly $1 billion worth of heavy construction equipment and tools are stolen each year. With telematics, however, contractors are combating these crimes.
Rather than using outdated security measures — such as universal keys that can access machinery at any time — contractors are implementing keypad technology designed to limit access to the proper operators and remotely shutdown equipment with the push of a button if needed.
By investing in keypad technology that works seamlessly with construction site surveillance systems, contractors can protect their assets and avoid a costly write off.
Even if thieves manage to get their hands on a piece of equipment, keypad technology can be used in conjunction with geofencing boundaries to alert contractors. The second any equipment breaks its geofencing boundaries, a notification is sent directly to a contractor's laptop or smartphone. From there, contractors can remotely shut the machine down, rendering it useless to potential thieves.
Earning the right to ride
While theft prevention is important, it's not the only thing contractors can do to preserve fleet safety and security. Equipment damage, as well as employee injuries resulting from unauthorized use, can prove just as costly.
By combining a security keypad that utilizes a telematics platform with existing asset compliance software, contractors can ensure equipment doesn't fall into the wrong hands. Each user will receive a unique identification code to start up keypad-equipped machinery. Contractors can also integrate telematics with their HR systems to ensure only workers with proper certifications can use the equipment.
Regardless of whether they're on site or not, contractors will know their assets are being operated only by those who are properly trained and certified. Perhaps even more importantly, usage data gathered by a telematics platform can identify and correct dangerous habits exhibited by qualified operators. Such security measures not only limit equipment damage but also save lives.
Pinpoint accuracy
Although construction site cameras are adept at identifying who may have stolen equipment, tracking down the machine has proven much more difficult. In 2014, only 23% of stolen machines were ever found. Telematics is poised to change that.
Instead of searching for replacements when parts of their fleets go missing, contractors can use telematics to pinpoint the location of a machine days after it was stolen. By integrating surveillance systems with telematics platforms capable of providing real-time GPS locations, contractors can quickly begin a seamless recovery process, and thereby limit their losses.

Telematics has become increasingly commonplace in the construction industry in recent years — and for good reason. In addition to ramping up ROI, the technology promises to advance fleet security. From curbing unauthorized use of equipment to combating theft, contractors are leveraging telematics data along with existing technology to protect their fleets.
Willy Schlacks is president and co-founder of EquipmentShare, a construction technology company dedicated to helping contractors and heavy equipment owners increase the utilization of their assets. Driven by ES Track, the company's proprietary telematics solution, EquipmentShare enables contractors to see critical equipment data such as asset health and utilization.