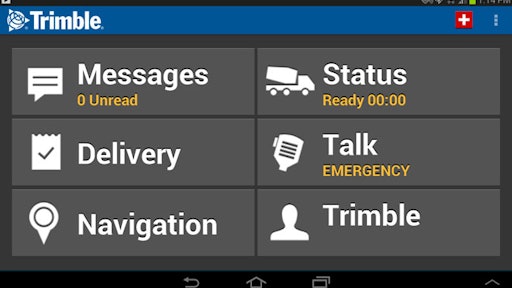 Mobile app: TrimFleet Mobile
Developer: Trimble Navigation Limited
Available on: Android devices
Designed for heavy construction, ready mix, aggregate and bulk materials vehicles, TrimFleet Mobile is an Andorid app that provides vehicle operators and contractors vehicle tracking with real-time updates on location and events. The app uses a combination of automated geo-based statuses for arrive and depart site and driver-initiated statuses for load and unload events.
The TrimFleet Mobile app allows drivers to communicate in multiple ways including two-way text messaging, Driver Initiate Messaging (DIM), voice-to-text and text-to-voice capabilities and Radio over IP (RoIP) voice calling between dispatchers and drivers.
In addition, the Active Navigation feature allows the app user to use Trimble's CoPilot Truck Navigation which is a truck-specific GPS navigation solution notifying drivers where to reroute from truck-restricted and prohibited roads. The solution uses customizable truck dimensions allowing drivers to calculate the optimal route and then provides voice-guided direction.
App features:
Telematics including position, speed and direction of the vehicle
Ticket and delivery information accessible by the driver with dispatch integration
Electronic proof of delivery with signature capture and time-stamped record of receipt
Improves efficiency and accuracy of billing and payment processes with real time information and documentation
DriverID enabled for driver login and status updates
Voice calling with bluetooth-enabled microphone capabilities
Increases efficiency, reduces out-of-route mileage and improves driver safety with premium navigation
CoPilot Truck Navigation with PC*MILER truck specific routing