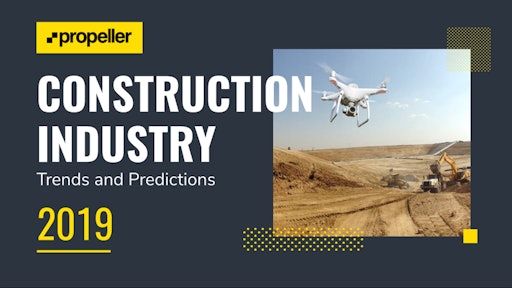 Propeller
A deficit in project data on construction sites is costing businesses $177 billion annually. Compared to other sectors, civil construction has lagged behind in tech adoption and productivity for decades. But new tools, like commercial drones, survey data platforms and autonomous machines are revolutionizing worksite measurement and management, improving efficiency and reducing safety risks.
According to the McKinsey Global Institute (MGI), "abundant gains are at stake. MGI's research found that if construction productivity were to catch up with that of the total economy — and it can — the sector's value added would increase by an estimated $1.6 trillion, adding about 2% to the global economy."
Propeller believes that digitization of the construction industry is not only a fix for lagging productivity and closing that $1.6 trillion gap, it's the first and imperative step towards the AI-powered and autonomous-machine future.
Propeller's Construction Industry Trends Report highlights several key trends and predictions that will impact the construction segment. The report outlines how up-to-date project data can close the productivity gap, digitize worksites and prepare them for the future.
(read the entire Propeller Construction Industry Trends Report...)