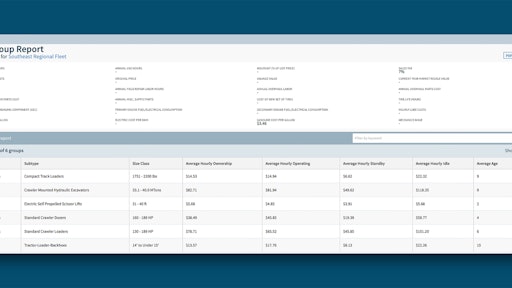 EquipmentWatch, a leader in data, software and insights for the heavy equipment industry, announced a new tool aimed at helping contractors better manage their internal fleet of equipment. The Rate Group Report calculates size-class internal charge rates based on actual fleet assets, giving equipment managers better data for cost control and estimation.
Creating rate group reports starts with a simple upload of a contractor's equipment fleet. During the upload, EquipmentWatch automatically classifies every asset by category, subtype, and size class. The Rate Group Report then calculates size class-specific charge rates by averaging ownership and operating costs for each of the uploaded models (as determined by the Internal Charge Rate product). The result is a summary schedule of rates that can be used across the organization for rental and estimation purposes. Rate accuracy can be improved by providing additional information around purchase prices, annual use hours, fuel costs, and more.
The Rate Group Report provides fleet managers with the information needed to confidently set equipment rates that keep the organization competitive and profitable. It also provides at-a-glance answers to the questions "What's the average age of a particular cat-class in my fleet?" and "How many similar assets do I have across my fleet?".
The Rate Group Report has been made immediately available to subscribers of the "Small/Medium" or "Market Leader" EquipmentWatch plans. Other EquipmentWatch subscribers interested in adding Rate Groups to their existing plan can contact EquipmentWatch sales at 1-888-307-1713.