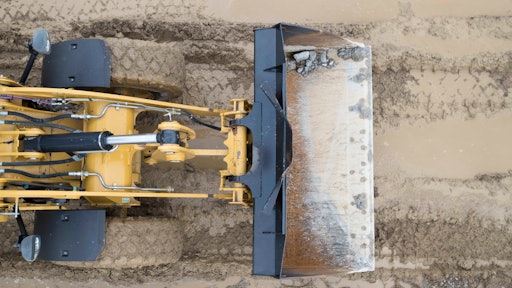 Bridgestone
The overall importance of having the right tires on jobsite equipment and maintaining them properly cannot be overstated. Maximizing uptime and increasing efficiency is always top of mind for construction fleets, and both factors are directly impacted by a fleet's tires, noted Robby Hamby, Bridgestone America's director of commercial product strategy.
"These tires are asked to navigate challenging surfaces and conditions, making the equipment vital for operations," Hamby added.
Bridgestone has invested heavily in recent years to advance tire technology and digital solutions to help fleets get the most out of their equipment and to arm operators with data to help them make informed decisions, Hamby pointed out, adding "keeping a vehicle's tires healthy and at max performance allows job sites to move forward."
"Most job sites today cover large areas, meaning it is crucial for the crews to be able to maneuver around the site safely and efficiently," noted Cory Trombley, NHT North America regional sales director for Nokian Tyres. "Wheeled machines allow job crews to do just this."
"Tires play a crucial role in ensuring the safe and efficient operation of construction equipment," noted Scott Holub, BKT manager, off-the-road (OTR) technical services. "Properly functioning tires can stabilize heavy machines and prevent accidents from occurring on job sites.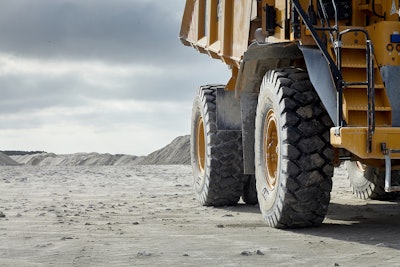 "Tires that are well-maintained and replaced when necessary can help reduce downtime by preventing breakdowns," Holub added. "Additionally, with the correct tire, contractors can impact fuel consumption, operating costs and overall productivity."
"Having the right tires will ensure that the application has the best performance to do the job," said Molly Chen, MAXAM Tire North America spokesperson. "Tires should be maintained along with the equipment itself as they provide support for the application."
Multiple Options
Tire options abound in the marketplace.
Bridgestone offers a wide variety of tires for construction fleets, all of which are designed to help drive uptime, Hamby said.
Bridgestone's portfolio of construction tires includes the Bridgestone VMT and the Firestone Duraforce MH, two products designed with enhanced tread patterns to ensure maximum traction and high performance in construction applications.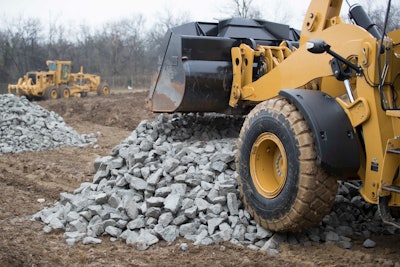 The company recently announced its new 25-inch VZT construction tire at 2023 CONEXPO-CON/AGG. Used for loader and grader applications, the VZT is designed to enhance key performance attributes to help maximize productivity and provide optimal traction and durability while improving on its smooth, comfortable ride, Hamby said.
Nokian Tyres offers premium block-pattern and flotation tires for the construction industry.
"Our tires are designed to offer end users long working hours and high-load capacities as well as a more comfortable ride when moving around the jobsite," Trombley said.
MAXAM Tire manufactures tires for a variety of construction applications, including skid steers, backhoes, telehandlers and pavers. Chen noted that the tires are designed with high-quality materials and engineered to provide the lowest cost per hour.
BKT offers tires for a wide range of construction equipment including excavators, bulldozers, loaders, graders, dump trucks, and more.
Tires for Electric Equipment
More electric vehicles (EVs) are coming on the scene. As states such as California set the stage for carbon emissions reduction, some tire companies are answering the call for EV-appropriate tires.
Hamby noted Bridgestone's line of premium construction tires and integrated technologies are EV-compatible.
"Our team of engineers is continually looking for ways to innovate and develop new products with EV technology in mind for commercial fleets," he said. "It's important to note that tires for electric fleets can exhibit different wear and replacement cycles, but with the proper settings and the latest technology, that wear cycle can be controlled."
BKT recently introduced its first E-READY tire line, the Agrimax Factor, in response to a growing trend toward EVs in the construction industry.
The Agrimax Factor is designed for tractors and features reinforced side walls, a stronger bead package and an updated tread compound.
"In the future, BKT will look into expanding the E-READY tire line to additional applications," Holub said.
Tires for electric vehicles must be different from traditional ones because EVs weigh more since their batteries may add up to 30% extra weight, which can affect tire performance, according to Piero Torassa, BKT field engineer manager at BKT Europe.
Tires also must withstand higher drive torque, especially at the start, Torassa noted, adding it is necessary to revisit the tire's bead structure to ensure better grip on the rim, especially during acceleration. The tread also be optimized in design and compound.
Tires mounted on an EV that are inadequate can cause significant energy losses, since rolling resistance can contribute as much as 20% of the vehicle's energy consumption, according to Torassa.
Subsequently, it is necessary to adapt the tread compound, tread pattern and sidewall structure. Tires used for EVs should have different tread patterns and compound compositions, both natural and synthetic. Size also significantly contributes to a tire's quietness, Torassa pointed out.
Selecting the Ideal Tire for an Application
An equipment operator should consider many factors when choosing a tire for construction site work. Focus on understanding the job conditions in which the equipment will operate when selecting a tire for construction site work, Chen said.
"For example, will the equipment be on soft underfoot conditions in mud? Or will it be operated on icy roads? What is more important to the contractor?" Chen added. "If it is off-roading, consider the load-carrying capacity. Does the contractor prefer radial or bias? Does the contractor worry about puncture? Many variables come into play other than size and pricing. One must consider the condition the equipment operates in and choose the right tires accordingly."
Trombley echoed the point that the biggest key when choosing a tire is making sure to select the right tire for the application, adding that it is important to make sure the tires are rated for the type of environment in which they will be used.
Equipment operators should choose a tire that offers excellent traction, stability and durability, Holub said.
"With that being said, it is important to keep in mind many factors, like application, type of equipment, load and speed, before making a final decision," Holub added.
Hamby said that it is important to understand the site conditions in which the equipment in the fleet will operate when deciding. Bridgestone's network of 2,500 authorized dealers helps end users evaluate this information and recommend tires based on the conditions, he added.
Asset management capabilities are also worth considering, said Hamby, adding that Bridgestone offers solutions and technologies designed to enhance the ability of an equipment operator to properly monitor tires on a construction fleet.
"Our tires are manufactured to seamlessly connect with digital health-monitoring solutions like IntelliTire that monitor a tire's attributes in real-time," he said. "By pairing tire monitoring solutions with premium tires, equipment operators can detect and avoid tire issues before they happen, maximizing their investment by extending the life of the tire."
Hamby pointed out that "increasingly, forward-looking fleet operators are looking at tires not simply as a cost to be managed but as an investment to be maximized, realizing that tires are integral to an optimally safe and efficient fleet.
"By pairing … Bridgestone tires with data-driven insights, our Bridgestone end users are seeing how the right tires and data can drive significant, bottom-line efficiencies as well as sustainability in their daily operations."
Technology
Tire companies are now offering technology enabling equipment for operators to identify tire situations before they develop into major problems.
The best way to maintain tires is to prevent downtime before it happens with health monitoring solutions like IntelliTire, said Hamby.
The digital solution is a remote health monitoring system that uses internal or external stem-mounted sensors to provide critical real-time data such as tire inflation pressure and temperature to continually monitor the health of each tire throughout its life cycle, he added.
"The data gathered by this tool help fleets reduce downtime by scheduling maintenance when needed, optimize total cost of ownership, and maximize productivity," Hamby said.
BKT has developed a device called SPOTech (Satellite Performance Optimization Technology). SPOTech uses GPS, accelerometers, video cameras and data loggers during site visits to record information regarding haul roads, distances, cycle times and speed.
BKT combines that information with the customer's production data to calculate which tires will perform best. This helps optimize a customer's operation, enhance productivity and reduce maintenance issues, said Holub.
Nokian Tyres recently launched its own tire monitoring system called Nokian Tyres Intuitu.
"Our goal with this program is to offer our customers 'Smart Tires,' giving them the ability to track the performance of their tires right from their phone," Trombley says. "We hope to be bringing this technology to our customers in North America soon."
Sidebar: Maintenance Tips
Routine maintenance is not only vital to the health of tires but also to overall fleet efficiency, noted Hamby.
"Tire-related downtime can result in significant financial and operational costs, so it is important to maximize the investment and get the most out of the tires," he added.
Basic tips for maintaining tires:
Regular tire inspections should be performed to look for any damage (for example, cuts, embedded materials, torn lugs, bulges and cracking) that could impair the equipment operation, noted Holub.
For radial tires, always check the air pressure to ensure that it is at its optimal pressure according to the manufacturer, said Chen. "Air pressure for each application is determined by many different factors, and just as we all know, a tire cannot perform without air," she added. "Air is the most important factor for any tire as the air carries the load, not the tire."
Holub added, "In addition to looking for damage during the inspection, contractors should check air pressures weekly, as improper air pressure by as little as five pounds can reduce the performance and life of a tire."
"Proper pressure maintenance is crucial and must be done regularly," says Trombley. "Overloading is one of the main causes of early failures in tires, so as an industry we need to do everything we can to educate end-users on the importance of checking air pressures regularly."
Cold inflation checks are the best and most accurate. A cold tire is generally defined as one that has been sitting idle and not used for a minimum of 24 hours, said Chen, adding from this point, the pressure can be monitored more accurately.
"Hot inflation checks in most cases are the norm since many operations are 24/7," she said. "Therefore, knowing the cold inflation pressure of the tire will help track the rise in pressure in a working tire. This will then help to set the correct standards for warm inflation checks."
For certain tires and applications, rotating the tires may be required to maximize life, noted Holub.
Use a tire gauge if needed.
MAXAM Tire has a series of technical bulletin articles to help end users maintain their tires and understand how to choose the right tire. The company advocates daily maintenance checks on tires, making the point that it's important for construction companies to do so to derive optimal productivity and life from them. Basic inspection points include the tire's external appearance, rims and valves, and inflation pressure.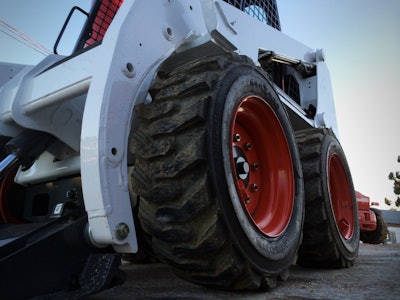 Additional signs of damage include punctures and cuts. Small, hard objects can penetrate the tread, casing and inner liner, resulting in loss of air and casing strength. If the damage is caught early enough, the tire can be repaired. If the cut is too deep, the tire should be scrapped.
Separation of the tread from the belt or casing ply is another sign of damage. It is caused by normal shear forces in a working tire after being cut. Small cuts can transform into separation over time, resulting in heat build-up and subsequent increases in the size of the separation. If caught early, the tire can be repaired. If not, it must be scrapped.
Heat separation is caused by excessive brake heat and loads, causing tread or bead area separation, with the rubber giving off a burnt smell. Operators should stay within ton-mile/hour requirements and monitor all loads.
Turn-up separation is caused by excessive shear and/or bending force in the bead area, resulting in excess load and causing the tire to bend over the top of the flange. The result is heat buildup and subsequent separation, although it may also be a manufacturer issue. The issue can be addressed through proper and evenly distributed loading of the vehicle. The tire should be removed once the steel is showing.
Impact breaks are caused by excessive impact energy loading beyond breaking the strength of the casing. It results in immediate air loss—blow out—or damaged cords, causing separation. The tire should be scrapped, and the operation should focus on improving clean-up and proper operation.
Over-deflection is caused by under inflation and overloading, showing up as casing fatigue, heat fatigue, radial cracking, liner failure and irregular wear patterns.
Equipment operators should double-check inflation to ensure that it matches the load up to the maximum allowable level. The rim flange should be checked. Equipment operators should review loads hauled to determine if overloads are prevalent. Awareness training is required.
Bead fatigue occurs through the manufacturing process or improper operation, causing indexing on the wheel and potential bead area separation. It can be addressed by reducing bead lubricant on the tire installation and conducting proper operating training.
Hydraulic oil damage is caused by oil soaking into the tire, softening it, and leading to early removal. This issue is mitigated by keeping the tire clean.
Belt edge separation starts between the belts and works out to the shoulder of the tire, eventually breaking through the sidewall. The tire should be pulled from service and scrapped.
Belt edge separation occurs when there are other signs of damage, such as chipper separation due to a manufacturer issue. The tires should be continuously monitored until the steel is exposed.
MAXAM noted while solid OTR tires don't require the same maintenance as pneumatic off-the-road tires, equipment operators should still occasionally inspect solid OTR tires.
Indicators that solid OTR tires need to be replaced include rubber pieces peeling off on their own, layers of rubber with nylon cords that are no longer wearable rubber, and no remaining tread.
As MAXAM pointed out, air is to a tire what oil is to an engine. The company noted operators should be aware of a tire's different air needs depending on the equipment on which it is mounted. The company's tire inflation guide helps end users determine the correct air pressure for a tire.