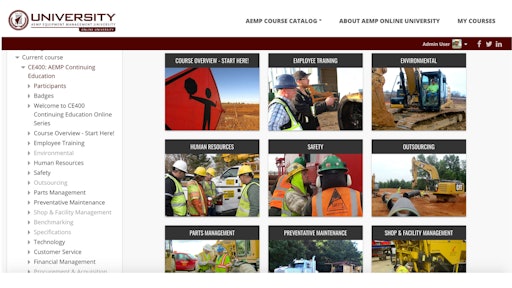 The Association of Equipment Management Professionals' online course CE400 Continuing Education Series was developed with working equipment professionals in mind. Equipment professionals make up the committees that selected content intended to help peers lift their careers to the next level.
Learning modules dig deep into the 17 core competencies AEMP members have identified as essential to professional equipment management.
Earn continuing-education hours to maintain your AEMP Certified Equipment Manager status or just take these learning modules to broaden your knowledge of equipment management. Video presentations from thought leaders and subject matter experts in the industry are made available giving you insight to not only the important topics discussed, but will also give you a taste of what AEMP meetings and conferences are like. Knowledge check assessments are also included for you to be able to show progress and completed modules to show your employer proof of progress or for you own personal gratification.
Topics addressed in the Continuing Educational Online Series include:
Employee Training – With a focus on operator training and care programs, featuring Phil Hernandez with SGL Constructors
Safety – How to create and deploy a safety culture with Kokosing Construction Co.'s Carl Uhinck
Preventative Maintenance – includes a great piece on Engineered Maintenance by Equipment Manager Jason Ruggles
Technology – Pieces focused on data management and its influence on predictive maintenance
Risk Management – includes a piece on Business Ethics and the Impact of Litigation on Fleet Operations by Mike Bassett
Human Resources – Covering everything from courting diversity to drug testing
Parts Management
Customer Service
Financial Management
With materials created by end users/equipment managers for equipment professionals, AEMP's University content is relevant in the real world. 
Tuition covers an online subscription to continuing education resources including articles, recorded conference education, and quiz activities with 365 days of curriculum access. Upon completion, this course provides eight CEU credits toward renewing the CEM or CESP certifications.
Get more information on the AEMP University's Continuing Education Series here