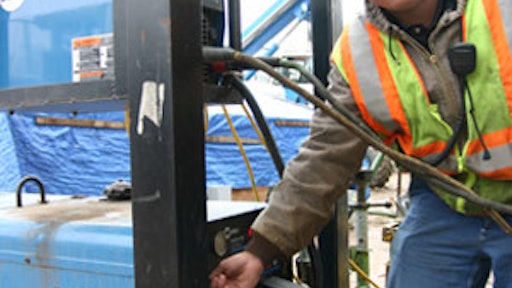 "If it's not broke, don't fix it," is a common mantra and, unfortunately, one that can lead to you losing your competitive edge. The reason: what was state-of-the-art five years ago may bear little resemblance to today's equipment and the advantages of their offerings. This is especially true in the area of welding.
"I bought this welding machine 10 years ago," you may say. "It's still working fine. Why buy something new?"
Well, what if with new equipment you could increase productivity by 30%? Or what if you could reduce manpower needs by 50%? What if you could shorten prep time, increase deposition rates, decrease training time, and/or reduce weld defects and rework time? What if that machine you purchased 10 years ago is actually costing you money ? not because it's not working ? but because a new machine could pay for itself in six months and start increasing your bottom line?
These are important questions that represent common issues for decision makers. In fact, Miller Electric surveyed some of its welding customers in the construction and industrial areas and found that the same Key Business Issues (KBIs) kept reoccurring.
These KBIs include:
Reducing weld costs
Increasing productivity
Increasing operator efficiency
Justifying the cost of equipment purchases.
These KBIs are so prevalent and pervasive that Miller Electric has structured its Results Web site (http://www.MillerWelds.com/Results) along these four categories. The site's purpose is to provoke thought and prompt visitors to reevaluate their own operations, while encouraging dialogue among its users. It does this by examining how others addressed these common issues and how today's technology improved their bottom line.
Take, for instance, the case of AZCO, Inc. of Appleton, Wis. AZCO is an integrated construction company that prides itself on its limited reliance on subcontractors. At any one time, as many as 500 AZCO employees may be working on construction sites ? power plants, foundries, food and beverage facilities, for example ? around the county.
Since AZCO typically sees a project through from start to completion, any one site is likely to see AZCO ironworkers, pipe fitters and boilermakers take part in the project. Each of these groups may rely on a different welding process (flux cored, Stick, TIG) and prefer different arc settings in any one process. In constructing a power plant, pipe fitters may come in first to weld underground piping (Stick and/or flux cored). Then ironworkers may come in to erect the structure (again using Stick and flux cored, but perhaps desiring different arc characteristics); then the boilermakers will come in to weld (DC-TIG, Stick) the boiler tubing.
It's up to Mike Lang, AZCO's tool/warehouse manager, to make sure that when each group goes to work it has the necessary equipment on site. Meeting all of their welding needs isn't easy. Multiply those considerations by numerous sites around the country and you'll see the magnitude of Mike's challenge.
He solved part of the challenge by choosing Miller PipePro 304 welder generators, which met the demands of the various trades by providing an equally superior arc in each process. Now a pipe fitter, ironworker and boilermaker could share the same machine, simplifying logistics and removing the need for a separate machine for each.
For a while, Mike used the PipePro 304s mounted on trailers that were towed to various job sites. Then he decided to further reexamine his operation and, in doing so, discovered that the PipePro 304 had enough generator power to operate an XMT 304 inverter-based multi-process welder. (The welder component of the PipePro 304 is based on the Miller XMT 304 multi-process welding power source.)
By pairing a PipePro 304 and an XMT 304 on a skid of his own design, he was now able to use one welder generator to power two superior-quality welding arcs.
The skids were easy to transport, cut in half the number of welder generators needed, and greatly simplified inventory. On one nine-month job, using nine of the combinations, AZCO saved more than $46,000 in inter-company rental costs, not counting the decreased fuel, transportation and maintenance costs. It's easy to see how Mike could justify buying new equipment.
AZCO isn't an isolated case. When Apex Steel, Inc., upgraded its wire feeders to Miller Suitcase X-TREME 12 VS wire feeders, it maintained its competitive edge and experienced a new level of job site reliability.
"Time is a huge factor….On a job like this [erecting a 29-story building in Seattle], the labor costs alone are about $85 to $90 per man, per hour," says Kevin Koester, Apex president. "That's why we need to use reliable equipment like the SuitCase X-TREME. They've been used and abused, as have the Miller Trailblazer gas drives. Both are holding up well."
While these are both large operations, it isn't necessary to have hundreds of welders working to concern yourself with addressing KBIs.
Not too long ago, Patrick Brinkerhoff, director of ride engineering for the Stratosphere in Las Vegas, was tasked with removing the roller coaster, the High Roller, from atop the Stratosphere Tower. For those of you who don't know, the Stratosphere is the tallest structure west of the Mississippi river and the tallest freestanding observation tower in the U.S.
At its top, four rides offer the thrills of an amusement park, with the added attraction of being 900 feet in the air. The High Roller, which had ringed the Tower since the Stratosphere opened, was the tamest of the rides and was due for a major facelift. Stratosphere management decided to remove it.
The track needed to be cut into pieces small enough to fit into the elevator. Patrick and crew would have to work in the early morning hours when the Tower was closed to visitors, meaning his ride maintenance staff would be working on overtime. An oxy-acetylene torch was already part of his arsenal and could have been used for the job?but Patrick questioned whether there wasn't a better tool available. In his case, safety, more than time or money was the primary consideration.
He started his research by talking to others in the industry, and then he turned to the Web, coming to the MillerWelds.com site where he read about products in action ? not merely about product features -- but about how the products benefited others with concerns similar to his own.
"It allowed me to associate products with what I need to do," Patrick says.
His research led him to purchase a Miller Spectrum plasma cutter, eliminating the dangerous and costly transportation of acetylene in the Tower. Almost as a side benefit, it sliced his cutting time in half, and allowed more of his crew to use the plasma cutter since it required less training. The new machine easily paid for itself.
As another example, Bedrock Stone, a concrete recycling facility, replaced its oxy-fuel setup and other plasma cutter for one Miller Spectrum 1000 plasma cutter and saved $52,000, while solving equipment portability and dirty power issues. The Spectrum paid for itself in 1.3 months.
It's important to note that Patrick, as well as AZCO, Bedrock and Apex steel, already had equipment on hand that would do the job. But they sought solutions that would work even better. The lesson here doesn't just concern the virtues of a Spectrum plasma cutter or PipePro 304. The larger lesson concerns the need to constantly reevaluate existing processes to see if a better solution ? one that addresses your KBIs - exists.
That's where the MillerWelds.com/Results site comes in. It's designed to be a tool that prompts readers to reexamine their welding operations in ways they may not have considered before. It's also designed to present a forum, through the Viewpoints Blog, where these issues can be discussed. If you're wondering where you're going to find your workforce in the coming years or whether it makes more sense to rent or buy equipment, you're not alone. Visit Viewpoints and add your thoughts.
Just because your existing equipment isn't broken, doesn't mean it's still the best tool for the job. Read a few of the executive summaries on the MillerWelds.com/Results site and let them help you look at your welding operation with fresh eyes. A few moments of your time spent there twice a month, may be one of the best investments you make this year.
Neal Borchert is a certified welding inspector and businesses development manager with Miller Electric Mfg. Co. In his 30 years at Miller, he's been a welding instructor, coordinator of weld process training and product manager. He's been involved in the training of and the introduction of new technologies to the construction trades. Neal also leads Miller's training efforts with educational institutions. You can email Neal at INFO@MillerWelds.com