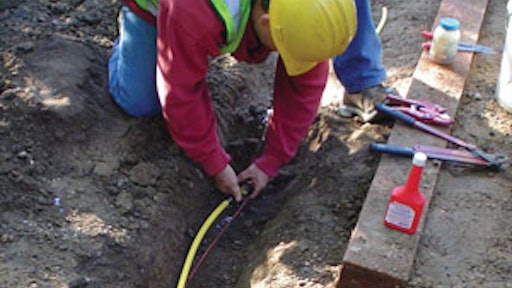 By Scott Landes
Every 60 seconds, an underground utility is hit or damaged. The consequences can range from a minor headache to the loss of 911 and other vital services and, in extreme cases, loss of life. When these scenarios do occur, damage claims and lawsuits can develop.
When a facility incident happens, how can you determine what led to the incident and why? And what can be done in the future to prevent similar accidents? The Common Ground Alliance (CGA), a member-driven organization dedicated to damage prevention and underground safety, offers a means to help answer these and other questions.
What is DIRT?
The Damage Information Reporting Tool (DIRT) is a free online tool to help improve damage prevention through collection and analysis of underground facility event data on a national basis. The ultimate goal is to identify the root cause of facility events, and eventually reduce their number. Reducing underground damages helps ensure worker and public safety; protects property and the environment; reduces construction downtime; and prevents costly service outages.
DIRT (www.cga-dirt.com ) is used strictly to report facility events. The CGA defines a facility event as facility damage, a near-miss or excavator downtime. A near-miss is defined as a facility event where underground facility damage did not occur, but where a clear potential for damage was identified.
The CGA urges all parties involved in excavation and underground work to collect damage and other underground facility event data and report it via DIRT. This includes excavators and facility owners. Facility events may be entered anonymously and at no charge. The information is added to the national clearinghouse of data that is analyzed annually by the CGA DIRT Committee. Data collected is not used for regulatory enforcement purposes or to determine liability. Identities of the involved parties are kept confidential.
Because every type of facility event can help in data analysis, it is important that all incidences of underground facility disturbances be reported, along with the root cause of the event (i.e., no call for locate). It is also important to report construction downtime that may be caused by inaccurate or untimely marking and locating.
Computer access at the incident site is not required. The damage can be recorded on a standard form and uploaded to DIRT at a later time. Visit the DIRT web site to download the standard report form, or to learn more about online submission options, including bulk upload of large quantities of data.
In addition to sharing information with the national database, you can also use Virtual Private DIRT to record and analyze facility event data within your organization. The feature is accessible via a unique web address, and can be customized with the look and feel of your organization. Examples of companies currently using this program include Alabama One-Call, Tennessee One-Call and the North American Telecommunications Damage Prevention Council.
Benefits of data collection
The ultimate outcome of DIRT is to assist in underground utility damage prevention efforts. DIRT provides a central location to gather national data on facility events, thereby creating a more uniform reporting structure.
Increased use of reporting will:
provide more accurate statistics - the more data submitted, the more accurate the final report;
provide a larger set of baseline data for long-term trend analysis;
increase consistency of data reports across stakeholders/industries;
increase awareness of the importance of damage prevention;
increase awareness of the importance of root cause analysis and incident follow-up;
provide One-Call and other organizations involved in excavation with targeted topics and targeted audiences for education campaigns.
To learn more about DIRT and other CGA programs, visit www.commongroundalliance.com.
DIRT Gains Momentum
DIRT is a product of the CGA's Data Reporting and Evaluation Committee. This volunteer-based group is comprised of members from One-Call organizations, locating companies, contractors, data/technical personnel and underground utility facility stakeholders. The committee has recently combined forces with the CGA Educational Programs & Membership, Marketing & Communications (EdMMC) committee to help promote DIRT.
Since its inception in November 2003, DIRT has consistently gained momentum. In its first year of operation in 2004, users submitted more than 21,000 entries. In 2005, the number jumped to over 51,000, and 2006 data should contain about 104,000 entries. The 2006 statistics will be released at the CGA Annual Meeting, held in conjunction with the CGA Excavation Safety Conference and Expo, March 25 to 27 in Las Vegas.
Scott Landes is a member of the Common Ground Alliance Education Committee, and president of Rhino Marking and Protection Systems.