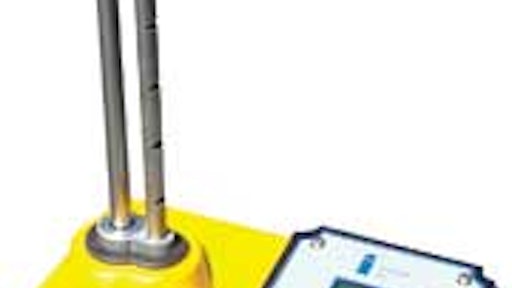 An analysis of SafeLane Surface Overlay's performance during the 2005-06 winter season, conducted by a leading snow and ice control authority, concludes that Cargill's patented bridge and pavement treatment is providing safety and mobility benefits where it's being used, while requiring significantly less chemical treatment during winter storms.
The report by Asset Insight Technologies, a consulting service for the winter highway maintenance industry, summarizes SafeLane Surface Overlay's performance at all nine test installations across six states, as far north as Wisconsin and as far south as Texas.
"For statistically significant results, safety studies need to be conducted over a number of years," says Wilfred Nixon, president of Asset Insight Technologies and professor of engineering at the University of Iowa. "While this data is preliminary, it appears that the improved performance of the SafeLane overlay does indeed translate into safety improvements for the traveling public."
The report concluded that:
In nearly all cases, test sections remained clear of snow or ice at times when it was accumulating on untreated (control) sections of roads and bridges.
When accumulation did occur on test sections in heavy snowstorms, the snow and ice did not bond to the surface, resulting in easier plowing.
Bare pavement could be maintained on test sections with about half the chemical applied to the untreated (control) sections.
There were no concerns with chemical slickness or slipperiness even when chemical was applied in conditions where such slickness could be expected.
There were no weather-related accidents at the nine installation sites over the winter season (a very small number of slide-off incidents in Ohio were attributed to excessive speed). In many cases this contrasted with several accidents on nearby untreated stretches of road or bridge deck, and in nearly all cases the treated sites themselves had a history of winter weather accidents.
A sampling of the data:
In four separate snow events in South Bend, IN, officials reported that the SafeLane test sections of the Ironwood Bridge did not require treatment despite the other stretches being snow covered.
In Superior, WI, the treated section of the Blatnick bridge "holds the chemical longer and when it does become snow covered, seems to have more traction than the surrounding area," according to one official.
A three-day ice storm produced no accidents on the treated section of the McLean Bridge (McLean, TX) despite accidents "up and down the interstate," including one on the untreated side of the bridge.
An exit ramp in Brecksville, OH, site of 49 accidents during the previous two years, saw "fewer slide off accidents" and a very easy application process.
SafeLane Surface Overlay is made up of a patented combination of epoxy and aggregate rock. Liquid de-icer is applied to the overlay before ice or snowstorms hit. The material acts like a rigid sponge, storing the chemicals inside, then automatically releasing them as conditions develop for the formation of ice or snow.
"This proactive approach protects bridge decks and roadways against frost and ice without the need to send work crews out in the midst of icy weather," says Bob Persichetti, general manager for SafeLane Surface Overlay at Cargill, which licenses and markets the system and which commissioned Nixon to conduct the study.
Safelane's patented technology is licensed to Cargill by Michigan Tech University, where it was invented by Russ Alger, director of MTU's Institute for Snow Research. The university is on Michigan's Upper Peninsula, where the lake effect produces up to 25 feet of snow per year — obviously an ideal location for such research.
Studies at MTU found that SafeLane Surface Overlay has traction characteristics better than asphalt and equal to concrete.
"It also offers economic advantages," notes Persichetti. "It can extend the life of roads and bridges by acting as a sealant to reduce the effects of chloride and water intrusion. There is a diminished need to send trucks out in inclement weather, which means call-outs and overtime can be managed more efficiently. And as total chemical use declines, there is less runoff into the local environment."
For a complete copy of the AIT report, call Cargill at (866) 900-7258 or download it from the website at www.cargillsafelane.com.
InstroTek Model 3500 Xplorer
The model 3500 Xplorer moisture density gauge from InstroTek Inc. features the most up-to-date electronics, improved performance and straight forward, simple operation. Menu options are easy to read and navigate. A backlit LCD screen and special scroll functions allow operators to easily read the two-line display during day or nighttime work. Unit has been thoroughly tested for ruggedness and accuracy. Battery Saver and InteliCharge extend battery life keeping the gauge on the job instead of on the charger.
OilTrap ElectroPulse Water Treatment System
OilTrap Environmental introduces the ElectroPulse system designed for treatment of washwater generated from washing vehicles, equipment and stormwater run-off in the asphalt industry. The EP5-WR and EP10-WR are economically priced and easy to operate. Unit can process up to 200 gpm for treatment of stormwater run-off and treated water is of a quality that can be recycled or discharged to a sanitary sewer or surface water. The system uses electrocoagulation, an electrolytic-based technology for treatment of contaminated water economically and on-site. Packaged with on-board automation, the ElectroPulse system is fully automated, which dramatically reduces the cost and time of maintenance often associated with on-site water treatment systems. Also, there are no filters to clean or replace.
Liebherr Generation 6 Loaders
Liebherr's new L 566 2plus2 and L 580 2plus2 wheel loaders are equipped with 259- and 272-hp Tier III emissions- and noise-reducing engines. The advanced cooling system utilizes a hydraulic cooling-on-demand system with a larger cooling area and additional fuel-cooling unit. Units offer Liebherr travel drive with 2plus2 technology. Operating weights are 50,570 and 54,185 pounds with 24,767- and 39,849-pound tipping loads. The loaders feature 5.23- and 6.54-cubic-yard bucket capacities.
Hedland HTTP Ultrasonic Flow Meter
The new HTTP portable transit time ultrasonic flow meter clamps onto the outside of the pipe and does not contact the internal liquid. It also provides instantaneous rate and accumulated flows for efficient fluid measurement. The easy-to-mount unit includes bi-directional flow capability to measure forward total, reverse total and net total; pipe sizes that range from ½-inch and higher; and non-invasive meter clamps. Communication with the HTTP meter is achieved via a PC serial communications port and infrared serial adapter, allowing the user the convenience of no interconnection wires. Unit uses UltraLink Windows software allowing for configuration, calibration and troubleshooting.
Flexible Steel Flex-Lifter
Flexible Steel Lacing Co. introduces the Flex-Lifter, a conveyor belt lifter with a 4,000-pound safe lift rating. The portable beltline maintenance tool is designed to safely lift fully loaded troughed or flat conveyor belts. The Flex-Lifter lifts troughed belts using adjustable wings and flat return belts using a return lift bar included with each unit. Available in two models, the medium unit is designed for belt widths from 36 to 60 inches, while the large unit is for belts from 48 to 72 inches. The medium model achieves a vertical lift of 14 inches, while the large model reaches 16 inches.
ICON 821 Pull-type Scraper
The 821 pull-type scraper has a 21-cubic-yard capacity, yet has less than a 12-foot transport width. Features include a swingwall for rapid eject, quick-attach cast hitch and hydraulic operation of gate and wall by a synchro-sequencing valve. The double-wall design features high-tensile steel where needed, while the hydraulic accumulator allows for a cushioned haul. Unit also offers tandem configuration capability.
Roadrunner Grader-Spreader-Maintainer
Roadrunner expands its Grader-Spreader-Maintainer product line to include an 8-foot grading width series. Suitable for skid steers with 75 hp or more and operating loads greater than 2,500 pounds, unit retains the center of gravity close to the front of the prime mover to maintain smooth leveling characteristics. Unit is designed to grade and spread without windrows.
Five Star Industries Weiler Asphalt Product Line
The Weiler brand includes a self-propelled road widener and an asphalt windrow elevator. The W730 heavy-duty, 10-foot-wide, self-propelled road widener widens roads from one to 12 feet with a working depth ranging from 12 inches above grade to 12 inches below grade. An optional long conveyor and weight kit enables widths to 14 feet.
The E650 asphalt elevator features a 118-inch-wide throat, 58-inch-wide high-slant entry position conveyor, which allows the unit to accept tall windrows on high-production and wide-width projects. The unit also offers 7-inch-deep slats with 29-inch-diameter infeed augers that provide high capacity and help reduce particle size segregation.
Extec C12+ Crusher Line
The C12+ crusher line from Extec features a computer designed web and flange chassis for strength and flexibility in hostile operating environments. A Vogel central greasing system is standard for the supply of efficient centralized lubrication. Other features include "copperhead" bearing wear management system, Caterpillar C-9 Acert engine and an extended tail conveyor.