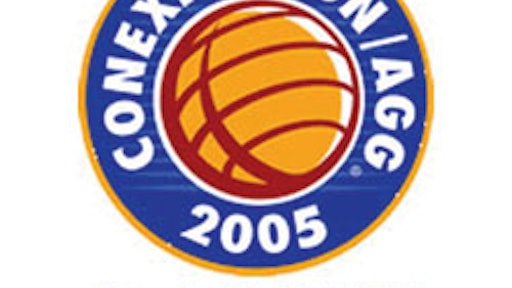 JCB Inc. chose its headquarters in Rocester, England, as the venue to preview the latest equipment models debuting at CONEXPO-CON/AGG 2005.
Although some of what we saw will not be officially unveiled until the show, the company was willing to let us share the highlights about some of its latest innovations.
ZTS with a full-size cab
According to JCB, the JZ140 is the first 14-ton zero tailswing excavator to feature a full-sized, high-specification cab. The cab incorporates a deluxe suspension seat and engine management monitor that are fully adjustable.
Further improvements include reduced in-cab noise, a built-in mobile phone holder and charger, responsive heater and air conditioning system and even a cup holder.
Powered by a 98-hp engine, the JZ140 has a drawbar pull of 29,225 lbs. and a maximum travel speed of 3.3 mph. The latest AMS management system offers four selectable working modes. The AMS links the operator control movements with the engine and hydraulic systems, maximizing productivity while lowering operating costs and fuel consumption. The system also records operating history; this information can be downloaded to a laptop for facilitating service and monitoring machine operation.
The 56-in. rear tailswing and 81-in. front radius enable the JZ140 to work in tight areas not suitable for a conventional profile machine. The ZTS design also provides greater visibility over the rear, and enables use within a single lane of a road or highway or against a wall.
Curved side skirts and a high clearance over the tracks help to reduce the risk of damage to the superstructure, while guards shield the undercarriage hydraulics from debris. Cushion control on the boom and dipper services reduce wear on machine parts and provide a smoother ride.
A step-down service area provides comfortable access to the engine. Service access doors around the machine facilitate ground-level access to service points and remote test points. Additional features include a 500-hour first engine oil and filter service interval, 1,000-hour greasing intervals on boom-base and boom-to-dipper pins and a Plexus oil filtration system.
Upgrades to a proven design
Just prior to CONEXPO-CON/AGG 2002, JCB launched a completely restyled and redesigned family of backhoe-loaders. For 2005, it introduces a series of further improvements initially available for European models, with availability in the United States and Canada later this year.
When it introduced its Precision Control system in 2003, JCB offered a seat-mounted hydraulic pilot control system that enabled the operator to utilize the controls in whatever direction he or she was facing. It now introduces an upgraded version.
This new Precision Control system retains the seat-mounted levers, but the left- and right-hand pods will be mounted in a more comfortable operating position for a smooth transition from loader to backhoe operation. Activation of the controls when changing from loader to backhoe is also simplified. The button to activate the backhoe controls is on the right-hand lever, and a light illuminates to confirm the pods are active. Backhoe controls are not deactivated until the seat is rotated past the central cab post. When facing forward, you can operate the excavator by depressing a button on the front face of the right-hand lever.
A proportional roller, also positioned on the right-hand lever, allows precise control of the Extradig function. The left-hand lever now features a switch that governs the use of a hydraulic breaker or other auxiliary attachment.
Loader controls consist of a single lever with a proportional roller to operate auxiliary attachments. This provides a more accurate, responsive loader when operating a 6-in-1 bucket or other auxiliary attachments.
An increase in hydraulic pressure delivers 10% extra lifting capacity and breakout force to both the loader and backhoe. This allows for faster digging cycles over the previous design.
Models for Europe will be the first to incorporate the JCB-designed and manufactured mid-size engines. Units with the new engine will have an impact-resistant, one-piece hood design with two opening positions for daily maintenance or full service requirements. The hood also incorporates side vents to draw air into the built-in air precleaner system. A fuel precleaner is also included.
Further improvements to the backhoe-loaders, as well as more additions to the excavator family, can be viewed at the JCB booth at CONEXPO-CON/AGG.
Miller Electric Bobcat 250
The Bobcat 250 welding generator features a fully enclosed case and tough XENOY "protective armor" on the front panel.
Accu-rated 10,000 watts of usable peak generator power
Provides Stick, MIG, flux-cored and AC/DC TIG welding outputs with a 100% duty cycle rating at 250 amps/25 volts
Tri-Cor technology adds more iron to the stabilizer for improved Stick welding performance
Mikrofyn Laser and Machine Controls
Mikrofyn offers a variety of lasers and machine control systems featuring rugged, durable designs.
25 models of lasers and three models of standalone visual laser machine detectors
Three models of real-time excavator systems, plus a full range of 2-D and 3-D GPS/LPS automatic machine controls for earthmoving machines, asphalt pavers and milling machines
Finlay Hydrascreens Line
Finlay Hydrascreens offers a full line of scalping, screening and stockpiling plants, reclaimers, trommels and washing plants.
Three-way and four-way split screening plants combine scalping, screening and stockpiling into one integrated unit
883 Reclaimer features a hardox steel apron feeder, 5' x 16' two-deck heavy-duty vibrating screen and rates up to 500 tph
740 Trommel with 5' x 13' reversible barrel, four-wheel drive and 180° fines swivel conveyor
NESCO DirtSquirt
The DirtSquirt is a powerful yet portable wheel wash system designed for quarries, cement plants and jobsites where mud, cement and other materials can cause an environmental problem on streets and highways.
Completely automated
No need to dismount vehicle for cleaning
Includes a 200-psi pump module, dual spray bars, utility bump, presence detector, connecting hoses and easy-to-replace spray nozzles
Hydro Engineering Hydrosite
The Hydrosite is a durable, environmentally friendly, portable wash rack system.
Includes all necessary equipment required to collect wash water and recycle it for re-use
Integrated Hydroblaster pressure washing system
Can be placed on any flat, hard surface including concrete, asphalt, dirt or gravel
Kanga 7 Series Fat Track Model
The 7 Series Fat Track Model incorporates full-time non-marking tracks and increased ground clearance.
Gasoline or diesel engines up to 24 hp
Maintenance-free track system with few parts and replaceable segments
Affixed stand-on platform
Smooth fingertip controls operate direction and speed
Dawson Universal Pile Extractors
The X400 and X1000 Universal Pile Extractors utilize two hydraulic cylinders acting on a common jaw assembly to extract practically any steel pile.
Onboard computerized system provides simple push-button control of all independent functions and processes an automated extraction sequence
Sheet piles (U or Z), H-piles or pipe piles can be accommodated
Pile can be extracted and cut off in short lengths for low headroom situations
Progressive load means no vibration is generated with little if any noise
VMAC PREDATAIR60 Compressor
The PREDATAIR60 is a compact, hydraulic-driven, above-deck compressor.
Features VMAC VR70 compressor
Produces 60 cfm
Can operate at temperatures to 270°
Filters, oil drain, oil fill and air pressure regulator are accessible without removing a cover
No belts to maintain
Faria MG 2000 Display Device
The MG 2000 display device works with the electronic control computer on electronically-controlled, internal combustion engines.
Can be configured as a speedometer or tachometer
Displays alphanumeric values and descriptions of real-time engine functions on a 1.75-in. LCD screen
Displays engine warnings and faults from ECU
Powerscreen Screening and Recycling Products
Powerscreen introduces three screening and recycling products.
Horizontal triple-shaft Warrior H3S featuring a 20' x 6' horizontal triple deck with triple-shaft oval-stroke screen for rates up to 800 tph
Chieftain 2100 Triple Deck with 20' x 5' triple-deck screen for output capacity up to 500 tons
Phoenix 1200 mobile trommel with hydraulically adjustable machine working angle and angle-adjustable hydraulically folding tail conveyor with 180° arc
Hobart McKay Welding Products
McKay welding products are designed to improve resistance against abrasion and impact and extend implement parts life.
ArmorWear self-shielded flux-cored wire for overlay on carbon and low alloy steels
VertiWear 600 gas-shielded flux-cored wire for surfacing mild and low alloy steel components prone to moderate abrasive wear and medium to high impact
VertiWear AP for buildup or overlay on austenitic manganese steel or for joining it to manganese, carbon or low alloy steel
Mark Systems AGILIS Software
AGILIS software integrates equipment asset management and job management into a fully featured construction accounting system.
Equipment asset management module features machine-to-machine (M2M) technology for real-time status of engine use and location
Integrates work orders, parts inventory and maintenance tracking
Produces break-even analyses and profit and loss statements
Job management module provides easy, accurate management of people, equipment and materials while providing automatic time and materials collection for billing
The Screen Machine 4043T Crusher
The 4043T portable crushing plant features a curtain relief system that allows for remote blockage clearance during operation.
Caterpillar tracks and 300-hp Caterpillar C-9 engine
40" x 43" horizontal impact crusher with 43" x 32" feed inlet opening
Fully remote-controlled operation
Split housing design
40-in.-diameter variable-speed rotor with one-piece shaft design
Three-stage crushing process
Terex/CMI PR950 Roto-Mill
The PR950 Roto-Mill Pavement Profiler makes cuts up to 15 in. deep with a standard full-lane cutting width of 86 in. at working speeds reaching 170 fpm.
950-hp Cummins six-cylinder diesel engine
Power-band, V-belt direct-drive system
Quick-mount cutter design with optional 150-in. cutting drum
Four steering modes
42-in. high-capacity conveyor swings 60° to the left or right of center
Three- or four-track designs
Genie Z-135/70 Boom
The Z-135/70 articulating boom offers a maximum working height of 141 ft., horizontal outreach of 69 ft. 9 in. and up-and-over clearance of 75 ft. 6 in.
X-Chassis axle configuration enables each axle to pivot from vertical mounting pins for easy setup
Jib-eXtend jib provides a fully extended length of 20 ft.
Features full-traction, four-wheel drive and four-wheel steer system with four steering modes
8-ft. self-leveling platform
360° continuous turntable rotation
Bernard Welding Products
Bernard Welding Equipment introduces Centerfire MIG welding consumables and the Q-Gun line of MIG guns.
Centerfire gas diffusers, "Drop-In" contact tips and nozzles incorporating built-in spatter shields
Q-Gun with Jump Liner technology features a straight handle torch, plus various trigger and switch options
Q-Guns available in 150- to 600-amp models and amperage ratings at 100% duty cycle using CO2 gas
Kaeser M57 Mobilair
The 45-hp M57 Mobilair delivers 210 cfm at 100 psig.
Sigma Profile direct-drive airend combined with an oversized fuel tank provide 10 hours of uninterrupted operation
Heavy-duty, four-cylinder diesel engine with cold-start battery
Solid steel floor and panel insulation for reduced noise levels
Fully powder-coated enclosure with gull wing doors
Torsion bar suspension system with oversized tires
Smith Dual-Guard Torch Kits
The Dual-Guard Torch features an in-head flash arrestor coupled with three-tube construction that keeps gases separate until they mix in the head.
Large-diameter, heavy wall stainless tubes enable high-volume gas flow with the capacity to cut steel up to 24 in. thick
Forged manganese bronze hammer-style head
Soft seat design allows cutting tip changes by hand
75°, 90° and 180° head angles
Standard lengths from 17 to 48 in.
Stellar 14528 Telescopic Crane
The 14528 telescopic crane has a 70,000-ft.-lb. capacity with a maximum double part line lifting capacity of 14,000 lbs.
28 ft. of full hydraulic reach
Standard variable-speed, multi-functional radio remote control
Planetary winch system with hydraulic/mechanical brake
60-fpm winch line speed
Grove RT875E Rough-Terrain Crane
The 75-ton RT875E has a four-section, full-power boom capable of extending from 41 to 128 ft.
Offsettable lattice swingaway extension adds 33 to 56 ft. of reach
Boom features MEGAFORM shaping
232-ft. maximum available tip height with jib and inserts
240-hp Cummins electronically-controlled diesel engine
Measures 10.8-ft. wide by 12.1-ft. high by 50.9-ft. long
Cab tilts 20°
53.6-ton GVW
Global Equipment MASTERMAG SCB
The MASTERMAG SCB is an upgraded, long-life, permanent crossbelt overhead separator.
Tri-Polar Magnetic Circuitry provides a concentrated magnetic field for 30% more power
Endless belt for easy belt removal and refitting
Optional armor-clad belt for extreme applications
Upgraded drive, motor and component parts with electric or hydraulic drive systems
Leading Edge Multi-Rippers
Leading Edge offers the Sharc (shanks on an ARC) Multi-Ripper (MR) and Multi-Ripper bucket (MRB).
Break rock up to four times faster than a hammer and rip up to 10 times faster than a single-pointed ripper
Short, staggered shanks hit one at a time for maximum breakout force
Generated tooth force is as much as eight times that of a standard five-tooth bucket
Constant tip radius creates a relatively flat bottom in the trench
Stow Concrete Trowels
Stow's four-blade, Honda-powered, walk-behind trowels are offered in 36- or 46-in.-diameter guard rings with power options ranging from 5.5 to 11 hp.
Finish from 7 to 11.5 sq. ft. of concrete per revolution
Standard handle with star wheel for precise adjustment or optional Quick-Adjust handle
Fingertip throttle control
Centrifugal safety switch automatically stops the trowel if the operator loses control of the handle
Metso Minerals Lokotrack Crusher and Screen
Metso Minerals introduces the Lokotrack LT200HP cone crusher and ST352 mobile screen.
Track-mounted crushing plant features a Nordberg HP200 cone crusher capable of processing 275 tph, a 425-hp CT C-12 diesel engine, hydraulic drive and the IC600 interactive, intelligent control system
Modular mobile screen has a 9.6-cu.-yd. hopper capacity and features SmartScreen technology with IC300 intelligent controller
HAMM HD O120V Asphalt Compactor
The HD O120V has a 78-in. drum width with an offset working width of 81.5 in.
26,345-lb. operating weight
3.9-mph working speed
Rear drum features Oscillation compaction with oscillation force of 46,125 to 62,775 lbs.
Caterpillar TH210 and TH215 Telehandlers
The TH210 and TH215 telehandlers feature a low-profile design, side-mounted engine and low boom pivot point for improved operator line of sight during load carrying.
11,000-lb. TH210 has a rated load capacity of 4,850 lbs. and maximum lift height of 17 ft.
12,100-lb. TH215 has a rated load capacity of 5,500 lbs. and maximum lift height of 18.1 ft.
Both models equipped with standard enclosed FOPS/ROPS cab
IMT Dominator Field Service Vehicle and Telescopic Crane
Iowa Mold Tooling (IMT) introduces several enhancements to its Dominator field service vehicle and telescopic crane.
Increased amount of workspace provides greater accessibility to tools
Additional enhancements improve day-to-day mobility around the vehicle
Power Curbers Hydraulic Mold Lift
Power Curbers offers a hydraulic mold lift for use with the 5700-SUPER-B slipform machine.
Allows operator to easily and quickly lift a barrier mold off rebar at the end of a day's pour
Facilitates easier cleaning of machine
Gives machine an extra 2 ft. of lift for added maneuverability