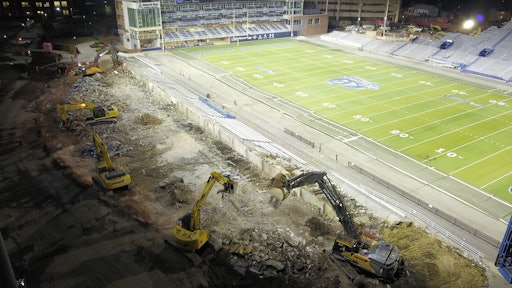 National Demolition Association
Information from this article was first published in Demolition Magazine and is being reused with permission from the National Demolition Association.

By Alexa Schlosser
Two days after the Old Dominion Monarchs demolished the VMI Keydets 77-14 on November 17, 2018, the demolition of S.B. Ballard Stadium began. In a survey done the year prior, fans recommended a myriad changes, and Old Dominion University (ODU), located in Norfolk, VA, wanted to meet their needs. So it decided to rebuild and expand the aging stadium. Initial projections put the reconstruction on an 18-month timeline, but ODU wanted it done in nine so it wouldn't have to use state funds or increase student fees — and the Monarchs could face Norfolk State in the home opener of the 2019 football season.
National Demolition Association (NDA) member East Coast Abatement & Demolition (ECD) was chosen by the general contractor, S.B. Ballard, to perform the demolition of the stadium. ECD had worked with S.B. Ballard before on projects "in line with the size and complexity of the ODU stadium project," says Ricky Webb, vice president of ECD.
"Each contractor awarded a piece of this historic project would have to set a grueling pace in order for S.B. Ballard to not only meet but exceed their schedule. And all this had to be accomplished while meeting the most stringent safety guidelines," he says.
Pre-mobilization
A week before the project began, ECD pre-mobilized four machines close to the stadium, including placing its high-reach excavator where everyone could see during the last game. "This was crucial to the success of our project because we had to hit the ground running on day one," Webb says. "Not one minute or hour could be lost to inefficiency. The success of the entire project rested on our ability to clear the way for the other critical trades."
S.B. Ballard and the ECD team had extensively discussed what time frame was needed to complete the task, as well as how trades could be overlapped to keep the schedule. "At the end of those talks, we were allotted 30 consecutive days with a 24 hour, seven days a week work schedule," Webb says.
After receiving their guidelines, ECD conducted a thorough review of its means and methods for tackling the projects. "After completing our analysis we concluded that if everything went as planned without any unforeseen conditions we could complete the project in 10 days," Webb says.
First day strategy
ECD knew it would be working literally around the clock, but that posed a challenge. S.B. Ballard stadium was nestled within a residential area, which meant noise was a concern. "We had planned on running 24 hours a day, seven days a week to ensure we would meet the schedule, so, initially, we started demolishing the structure during one 12-hour shift and loading out during the second 12-hour shift. We had five excavators on-site: two to load, and the other three to demo/sort materials," Webb says.
The team spent the first day mobilizing equipment, setting up dust control and removing items from the stadium that could not be recycled. They also removed lightbulbs and ballasts, as well as HVAC units containing freon. On the first night, the plan was to demo and sort with equipment as fast as possible and have trucks lined up the next morning for loading out.
"We only had a small area to start working with at first and could only fit three machines," Webb says. "The Komatsu 300HD and the Volvo 380 started the shorter stands the first night; meanwhile, the 480 high reach was simultaneously demolishing the taller portion. We had demolished the first quarter of the stands in the first night and sorted enough to load out the following day."
Project statistics

Day crew: 15
Night crew: 7
Number of excavators: 5
Project completion: 8 days
Waste stream recycling rate: 95%
Aluminum and steel recycling rate: 100%
Brick and concrete recycling rate: 100%
Adapting to the environment
The second day, they had enough material loaded out to bring in two more excavators for a total of five. This sped up the process even more and allowed three trucks to be loaded at one time. "We continued this method throughout the following three days to remove all debris from the slab," Webb says. "Once we got to the slab and foundations, all five pieces could pull, sort and load out. By the end of the eighth night, we had everything pulled and loaded out, and began to demobilize equipment."
In order to meet the deadline, ECD figured it would have to haul at least 50 loads of recycled material per day. Crews ran 12-hour overlapping shifts the first night, but after demolition began they were able to adjust the schedule to 6 a.m. to midnight every day instead because of how quickly the structure was coming down.
Another challenging part of the job that affected strategy was that the city prohibited vehicles with more than four axles to be on the main road between 4 p.m. and 6 a.m. However, after both parties made some concessions, they were able to get a variance permit from the city.
"We ran five or six of our own trucks, with support from a locally owned and operated third-party hauling company to ensure we had enough trucks on-site to meet our minimum 50+ load requirement," Webb says. "We stacked trucks to haul during the day, which provided daylight for safer loading with so many trucks on-site."
While the day crew loaded/sorted and hauled loads from 6 a.m. to 4 p.m., the second shift came in at 3 p.m. and worked until midnight doing more demolition, sorting and stockpiling so the morning shift could have enough material for the next day. "Once a rhythm was established, we were able to exceed our original load count expectations by at least 10+ loads a day," Webb says.
Dueling contractors
The stadium itself, Webb says, wasn't that unique, but he did find it interesting that S.B. Ballard contracted a different demolition company to demolish the west side of the grandstand. East Coast Demolition was only in charge of taking down the east side. Webb posits that the general contractor, because of the aggressive timeline, didn't want to "put all his eggs in one basket."
"During the course of demolition, the other trade contractors on-site as well as the community enjoyed watching the 'dueling demolition contractors' tear down the stadium simultaneously," Webb says. Ultimately, ECD finishes its side in half the time it took the other contractor. "This was a true testament to the experience and efficiency of the ECD team. This demolition evoked a lot of emotions from alumni and staff at the university due to its historic significance, this is something we don't typically contend with," he says.
Equipment Used

Volvo EC480EHR paired with NPK MP-28 processor
Volvo EC380E
Komatsu PC300HD paired with an NPK MP-28 processor
Komatsu PC270
Komatsu PC308
Dust Boss DB-60 for dust suppression
Skid steer
Multiple dump trucks and trailers
Focus on safety
Due to the expedited pace of the job and the nature of the environment, it was crucial for ECD to focus closely on the safety of surrounding college students and staff. "Making sure we had clear paths, lookouts and attentive drivers were crucial and reviewed hourly," Webb says.
Having enough trucks to haul the material in a short time frame was also crucial. "We spent weeks prior making sure all our owned trucks were serviced and overhauled to eliminate breakdowns," Webb says. "We had contracted a very reliable third-party hauler we use to supplement our trucks and be on standby."
Ultimately, Webb says, the job was a complete success and benchmark for all future projects. "I attribute the largest portion of the success to the seasoned staff that we had on-site and their ability to follow the carefully crafted demolition plan," he says.
An exhaustive effort was put forth by the ECD team in considering all the worst case/ "what if" scenarios they could face. "The carefully calculated and planned approach to all aspects of the project ensured that we would not only successfully complete the project but exceed our own expectations. We accomplished an incredible feat all without sacrificing the welfare and safety of our demolition crews or bystanders."
Incredibly, ECD completed the demolition in eight days, 22 days ahead of schedule.