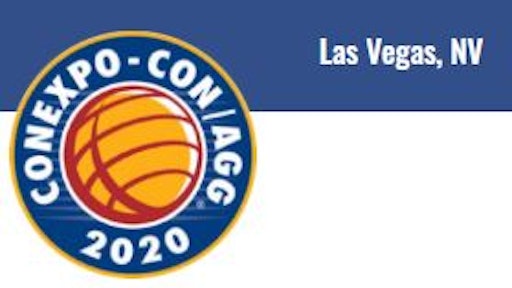 There is always a lot to learn at CONEXPO-CON/AGG. This year, attendees have the opportunity to choose from over 200 educational sessions, seminars and tech talks. This is the largest educational offering the trade show has ever offered.
Education sessions are broke into 10 tracks:
Aggregates
Asphalt
Concrete
Cranes, Rigging & Aerial Lifts
Earthmoving & Site Development
Equipment Management & Maintenance
Business Best Practices
Attract, Engage & Retain Talent
Safety
Technology Solutions
Sessions start Tuesday March 10 and run through Friday March 13.
We've rounded up a sampling of education sessions offered during this year's show. For a complete list and in-depth descriptions of all the education sessions go to http://www.conexpoconagg.com/visit/education.
Aggregates
Concrete Mix Design: What to Look for
Tuesday March 10, 1:00-2:30 p.m.
There are a few fundamental principles that apply to all concrete mixes, and understanding those principles can help you troubleshoot, modify, or adjust a mix to produce the results that you need. In this session you will learn why water-control is essential, what to look for in aggregate, and recognize advantages and disadvantages of supplementary cementitious materials and admixtures.
Equipment Operator Best Practices
Wednesday March 11, 1:00-2:30 p.m.
This course is designed for quarry managers and site foremen to have a better understanding of how to maximize machine operation efficiencies. Learn about recommended best practices to maximize wheel loader, dozer, trucks and excavator operations. Also learn about safety and proper pre-operation inspection processes.
Maximizing Conveyor Performance – Industry Standards vs. Real World Application
Thursday March 12, 9:30-10:30 a.m.
Learn about conveyor belt construction, operation forces, transition distances, tracking issues and other performance influences. After the session attendees should be able to better understand and troubleshoot real world belt conveyor performance issues.
Asphalt
Using New Technologies in Asphalt Paving
Tuesday March 10, 3:00-4:00 p.m.
Infrared (IR) Bar and Intelligent Compaction are two technologies helping contractors produce a consistently high quality pavement. In this session you will learn about these new technologies, see how real contractors are using them and how you can apply these technologies to your own operation.
Ins and Outs of Using Recycled Tire Rubber at your Asphalt Plant
Wednesday March 11, 3:00-4:00 p.m.
What is the most effective way to use recycled tire rubber (RTR) in asphalt pavements? This session focuses on the decisions and processes required to use recycled tire rubber effectively. Learn how to differentiate between applications available for RTR and the three primary approaches to use RTR in asphalt mixtures.
Balancing Mixture Performance and Economics
Thursday March 12, 11:00 a.m.-12:30 p.m.
This session will present fundamental principles that will assist in the design and production of a higher quality, more consistent and more cost effective mixture. Discussion items will include volumetric property fundamentals, materials (binder, aggregate and recycle) characterization and consistency, stockpile moisture considerations, and mixture performance testing and analysis.
How Technology Improves Paving: 3D Machine Control and Beyond
Friday March 13, 1:00-2:30 p.m.
Discover how office software can predict problems in the field before they happen, how automated machine guidance works to improve efficiency and smoothness in the field, and ways in which logistics tools integrate with the paver to maximize crew efficiency.
Concrete
Placing, Consolidating and Pumping Air Entrained Concrete
Tuesday March 10, 11:00 a.m.-12:30 p.m.
In this session, attendees will learn how to determine when changes in air content mean changes in freeze-thaw durability, how to plan pumping operations to minimize effects on air entrained concrete and how to speak-up in pre-pour conferences regarding how non-standard, point-of-placement test-methods change the test results.
Minimizing and Controlling Concrete Cracking Due to Shrinkage
Wednesday March 11, 1:00-2:30 p.m.
In this session you'll learn how to identify the fundamental material performance characteristics of concrete, how to determine what causes concrete to crack and distinguish the various types of cracks, and learn about solutions and technologies that help control and prevent concrete cracking.
The Business Case for Building Multifamily Buildings with Concrete
Thursday March 12, 9:30-10:30 a.m.
Insulating Concrete Forms (ICFs) provide ideal solutions for developers of apartments, condos, hotels, dormitories and assisted living facilities. This session will help contractors learn how to expand business with ICFs in the multifamily residential market.
Cranes, Rigging & Aerial Lift
How to Manage a Crane Accident
Tuesday March 10, 1:00-2:30 p.m.
This session will focus on information and procedures for preparedness before something happens and steps to follow in the event of a serious crane accident on your project. Learn how to assist first responders, identify and preserve evidence, and develop techniques to safely recover and remove damaged cranes and equipment.
Responsibilities of Onsite Personnel for Cranes
Wednesday March 11, 1:00-2:30 p.m.
This session reviews the different responsibilities, roles on the jobsite, and training and qualifications necessary to meet ASME requirements for on-site personnel.
Lift Planner – Putting the Puzzle Together
Thursday March 12, 3:00-4:00 p.m.
This interactive workshop gets attendees participating in solving load control and rigging decisions. You'll also confirm data required for completion of a lift plan according to ASME P30.1 Planning for Handling Activities.
Earthmoving & Site Development
How to Optimize Walk-around Inspections
Tuesday March 10, 1:00-2:30 p.m.
Do you know what to look for in equipment walk-around inspections? You will after this session. Also learn about proper fluid handling techniques and how to pinpoint and troubleshoot problem areas.
The Future of Asset Management & Liquidation: New Strategies for Maximizing Results
Wednesday March 11, 11:00 a.m.-12:30 p.m.
Attendees will gain an understanding of the equipment evaluation process and learn about the product lifecycle from a liquidation standpoint.
Renting vs. Buying Equipment Benefits of a Data-Driven Approach
Thursday March 12, 1:00-2:30 p.m.
This session provides an overview of new technologies enabling data-driven approach to analyzing the costs of renting verses buying equipment. Compare the benefits and drawbacks of both to determine the best strategy and cost effective option for your company.
How Grade Control Impacts Earthmoving Productivity
Friday March 13, 11:00 a.m.-12:30 p.m.
This panel discussion with equipment experts will discuss grade control and its impact on the cost and precision of earthmoving. Learn the difference between 2D and 3D grade control, understand cost of investment and discover operator productivity benefits.
Equipment Management & Maintenance
Making Data Useful: A Telematics End User's Journey
Tuesday March 10, 9:30-10:30 a.m.
There's so much data now, do you know what to do with it? You will after attending this session. Attendees will learn how to get buy-in from all stakeholders, understand how to approach data and programs with the result in mind, and learn how one company has streamlined data and technology in a Situational Awareness Room.
Your Internal Equipment Triangle: The Key to More Successful Fleet Management
Thursday March 12, 1:00-2:30 p.m.
Effective collaboration between operations, fleet maintenance and accounting results in more successful fleet management. This interactive session will provide insight into real life examples of executing best practices in equipment and fleet management.
DPF Cleaning: Protecting Your Tier 4 Investment
Friday March 13, 1:00-2:30 p.m.
Attend this session if you want to learn how each component of an aftertreatment system works and what problems or pitfalls you should anticipate. You'll also find out methods for cleaning DPF filters and the pros and cons of these methods.
Business Best Practices
Wisdom from the Hive: Technology Selection and Implementation
Tuesday March 10, 9:30-10:30 a.m.
Learn best practices for selecting and adopting new technology. Understand the support structure necessary to support this technology. Know how to build ongoing support within your organization. Finally, discover how you can partner with technology providers to ensure success.
Digital Storytelling: Rock Your Story for Marketing & Recruiting
Wednesday March 11, 3:00-4:00 p.m.
Developing creative digital content harnesses the power of a website, blogs, e-newsletters, and social media channels to help your brand develop a voice of authority in your marketplace. This session will help you succeed in your digital marketing and recruiting efforts.

Top 10 Reasons Why Construction Businesses Fail
Thursday March 12, 1:00-2:30 p.m.
Construction companies have a higher than average rate of failure. Don't let your company become a statistic no matter how long you've been in business. This session looks at the most common causes of construction business failures and what owners/leaders can do to avoid these common pitfalls.
No Fake News Here: Economic, Political & Government Policy Trends Impacting Construction
Friday March 13, 9:30-10:30 a.m.
With 2020 electoral politics driving policy, a panel of experts will discuss what's realistically going to make it over the finish line and impact your business.
Attract, Engage & Retain Talent
Reaching Gen Z in Recruitment, Training, and Retention Discussion

Tuesday March 10, 11:00 a.m.-12:30 p.m.

This round table discussion will share ideas that companies of all sizes can employ for success in recruiting, training and retaining the next generation of construction workers.

Top 10 Secrets to Successful Hiring
Wednesday March 11, 11:00 a.m.-12:30 p.m.
To attract and hire today requires a reset of how we view and execute the hiring process. This session will discuss strategies for attracting the right candidates, why job ads aren't generating results, and more.
Constructing Opportunity with Veterans
Thursday March, 12 9:30-10:30 a.m.
The large number of service members leaving active duty has created a growing talent pool for skilled trades. This session will discuss the variety of skills military veterans posses that are a natural fit for the construction industry as well as how to attract, engage and retain military talent.
I'm a Manager! Now What? 11 traits of effective managers
Friday March 13, 9:30-10:30 a.m.
Development as a manager is different than development as a trades-person. Learn 11 traits of successful blue collar managers and supervisors, how to prepare and develop managers, and how to understand the special case of the working supervisor.
Safety
Federal Agencies and Safety Regulations: A Peek Over the Horizon

Wednesday March 11, 11:00 a.m.-12:30 p.m.

A panel of federal officials will share insights on what issues their agencies are looking to address over the next few years. Officials from OSHA, NIOSH and the FHWA will be on the panel.

Developing a Driver Safety Culture with Real ROI
Thursday March 12, 1:00-2:00 p.m.
This session will dive into how to best leverage FMCSA Safety Management Cycles and FMCSRs and DOT audit preparations and results to achieve ROI.
Opioids in Construction
Friday March 13, 11:00 a.m.-12:30 p.m.
This session will look at the impact opioids have in the workplace and how employers can prevent and address substance use disorder.

Technology Solutions
Transforming Construction: End Users Discuss the Benefits and Challenges of Adopting Technology
Tuesday March 10, 9:30-10:30 a.m.
This session features a panel discussion of actual users who will discuss the benefits and challenges of the technologies they've used. The panel will also answer audience questions on adopting technologies.
Gain a Competitive Advantage Through Construction Technology
Wednesday March 11, 11:00 a.m.-12:30 p.m.
Explore how construction technology has evolved and how it can be leveraged to increase safety and productivity. This session will empower participants to think critically on how to develop their organizations through the next phase of the construction evolution.
Failure to Launch – The Real Reasons Technology Deployments Fail
Thursday March 12, 11:00 a.m.-12:30 p.m.
In this session, explore the root causes of construction technology implementation failures and discover strategies and risk mitigation methods that may improve program potential.
How Telematics Improve Uptime with Actionable Data
Friday March 13, 9:30-10:30 a.m.
Get insights to some of the key hurdles to telematics adoption and how to avoid data overload. This session will help attendees understand how to generate simplified fleet utilization reports and how to set specific goals for work/idle percentage as well as reduction of machine misuse.