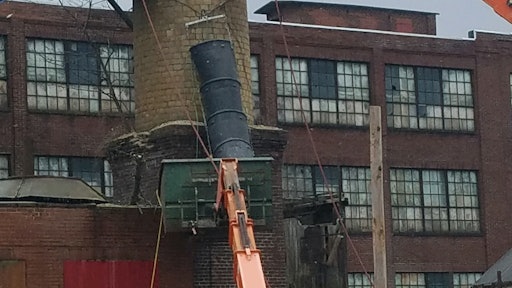 National Demolition Association
Information from this article was first published in Demolition Magazine and is being reused with permission from the National Demolition Association.
By Alexa Schlosser
For about 90 years, the J.H. and C.K. Eagle Mill in Kulpmont, PA, was used for various textile manufacturing businesses, with the last one closing up shop in 2001. For about 10 years after that, other types of companies used the property, but it eventually ceased operations for good in 2011 and sat unoccupied until November 2018 when National Demolition Association (NDA) member Stryker Demolition & Environmental Services began the task of dismantling the smokestacks.
Their high-hazard work — which was completed during winter months and included multiple mobilizations — ended up saving the Environmental Protection Agency (EPA) $250,000.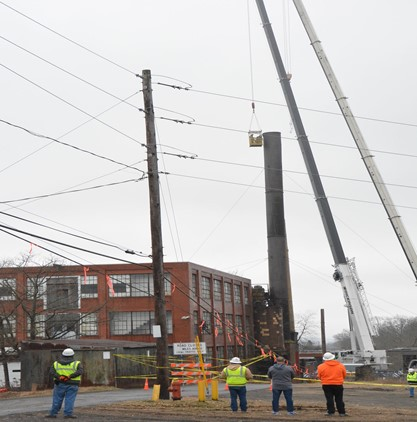 National Demolition AssociationImmediately, Stryker knew this would be a challenging, risky project. "The chimneys were compromised structurally, and the client was concerned that they may fall," says Joseph E. Eichler, Stryker's director of business development. Being that the site was in proximity to public roads and residential areas, this posed a major hazard.
Before dismantling the chimneys, though, Stryker needed to perform testing on what was believed to be an asbestos coating.
"Upon visual inspection, Stryker offered to facilitate sampling and analysis of both chimneys' exterior coating to verify the presence or absence of ACM," Eichler says. "Both chimneys' coatings came back negative. We were able to offer significant savings for demolition of the chimneys, as compared to a full abatement and demolition."
After the first phase of sampling the stack coatings, phase two, the actual dismantlement of the chimneys, could take place. The first chimney was dismantled in December 2018 through January 2019. The second chimney was dismantled in February 2019.
Hand demolition techniques were preferred and used, due mostly to the location of the site near local residences. Implosion techniques were not a preferred option. During the surgical dismantlement, the chimney masonry materials were hand-chiseled, placed into debris a chute and containerized in waste bins supported by a telescopic forklift, thus minimizing fugitive dust emissions.
The masonry waste was tipped from the waste bins to a client-provided roll-off container for off-site disposal. The steel chimney was cut by torch into small enough pieces and lowered to the ground via crane.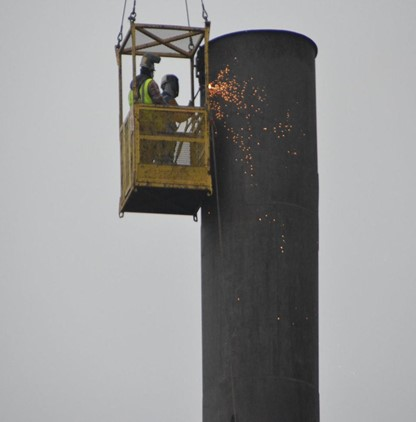 National Demolition AssociationDuring phase two, Stryker used a crane, man baskets, telescopic boom lifts and hand demolition tools such as hydraulic hammers, chisels and torch-cutting rigs.
Although the job wasn't without its challenges (namely, working in aerial baskets, dealing with weather conditions and managing waste to minimize dust), Stryker ultimately completed the job on time with no recordable incidents.
Project statistics
Man hours extended: 574
Crew size: 6
Completion time: 3 weeks
Percent recycled: 100%